PerformanceIf you're a hot rodder, the first thing you do when you see a new engine is count the spark plug wires. To save you the trouble, Prowler has a 3.5 liter high-output SOHC 24-valve aluminum V6 – and for a lot of sound reasons: Packaging of people and road ability being the main ones.But this free-revving 60-degree design cranks out enough suds (253 horsepower at 6,400 rpm) and yank (255 pound-feet of torque at 3,950 RPM) to get anybody's attention. It has an aluminum block with a forged steel crank bedded in the four main bearings. The heads and pistons are aluminum. It's been dressed-up, and heated-up slightly — a less restrictive air cleaner, cast stainless steel exhaust manifolds that make tube-type headers look primitive, and EFI linear cam throttle body for surprisingly quick, crisp response. And keep your eyes on the rev counter — because when you make use of the AutoStick(r) feature of the four-speed electronically controlled automatic transaxle and forget to upshift, an engine management system shuts down the fuel supply at 6600 RPM. You will notice the transition. You see this is the one automatic we install that doesn't have a mandatory up-shift built in. You select a gear in AutoStick(r) mode, you shift it up or down as you desire. For the gear-heads, final drive ratio is 3.89; individual gears are: 2.842 1st, 1.573 2nd. 1.000 3rd. and 0.689 (overdrive) 4th.
Dimensions Exterior:
Wheelbase – 113″
Overall Length – 165″
Overall Width – 76″
Overall Height – 51″
Track (f/r) – 62″/63″
Turning Diameter – 39′
Interior:
Head Room – 37″
Leg Room – 43″
Shoulder Room – 52″
Key Facts Engine:
High-output 3.5L V6
24-valve SOHC aluminum block
Sequental multipoint electronic fuel injection
60 degree OHC
253 horsepower at 6,400 rpms
255 pound-feet of torque at 3,950 rpms
Engine Breathing:
Dual throttle bodies inductionin '97, special exhaust
Transaxle:
Rear-wheel four-speed fully adaptive, electronically controlled automatic with AutoStick(r)
Curb Weight:
Brakes:
4-wheel power disc, vented
Steering:
Suspension:
Front – Independent upper and lower control arms with pushrods
Rear – Independent multilink, modified double-wishbone with front and rear stabilizer bars
Front/Rear – coil-over shock
Tires:
P225/45HR17 (front) and P295/40HR20 (rear)
Goodyear Extended Mobility (EMT) with run-flat capability and low tire pressure sensor
Wheels:
Cast aluminum (17-inch front, 20-inch rear)
Standard Equipment List:
Air bags, driver-side integral with steering wheel; Passenger-side (with on/off switch)- Located in the instrument panel
Certified to the new Federal Regulations that allow less forceful air bags. Always use seat belts. Rearward-facing child seats can only be used with passenger air bag turned off.)
Air Conditioning:
CFC-free refrigerant with outlets located in the instrument panel
Antenna:
Brakes:
4-wheel power disc, vented
Bumpers:
Contrasting front and rear
Console:
Center with armrest, cassette storage and cup holder
Convertible:
Manual, cloth top (Black)
Deck Lid Release:
Defroster, Rear Window:
Door Locks:
Power, auto with time delay Dynamic Side-Impact Protection
Floor Mats:
With color-keyed "Prowler" monogram
Fuel Capacity:
Grill:
Headlamps:
Composite aerodynamic quad projector beam; Front side markers
Instrument Panel:
With cluster speedometer, fuel, temp, volts and oil pressure (Tachometer mounted on steering column)
Interior Lighting:
Dual front courtesy, glove box
Exterior Mirrors:
Radio:
AM/FM cassette with graphic equalizer and CD changer controls with remote 6-disc changer, amplifier and 7 speakers
Seat Belts:
Color-keyed, 3-point Unibelt
Seats:
Leather-trimmed low-back bucket seats with halo head restraint and seatback's map pocket Passenger-side only), manual 6-way driver's seat height adjuster
Shift Knob:
Speed Control:
Steering Wheel:
Leather-wrapped wheel with center horn blow, speed control switches and radio control switches
Tilt Steering Wheel:
Windows:
Windshield Wipers:
Body Materials The Prowler is a rolling celebration of new technology and materials. Staying true to its hot-rod roots, however, Prowler's architecture remains body-on-frame, and the top priorities – rigidity, strength yet light in weight – were all met with the use of tomorrow's material's technology. Sections are joined by slip-in Node and Clevis castings which are MIG welded, as are the various brackets and mounts. The robotic welding is so precisely executed that each bead has an almost jewel-like quality to it. Two alloys are used, 6061 and 6063, both in T6 temper (which is well into the hardness and strength end of the aluminum designation scales). These are expensive alloys, but relatively easy to form – and they can be further hardened to near steel equivalency through "heat aging" as well as other ways. The two alloys lend themselves to the creation of "crush" zones, and the wrinkled "dimple" near the front of the frame also collapses under impact. Provisions for the cockpit take up slightly more than the center third of Prowler's frame, assuring passenger room aplenty, and full compliance with federal safety mandates, including dual air bags* and side-impact protection. *Certified to the new Federal Regulations that allow less forceful air bags. Always use seat belts. Rearward-facing child seats can only be used with passenger air bag turned off.       Production Figures – As of February 15, 2002 (End of Prowler Production)
| | | | | | |
| --- | --- | --- | --- | --- | --- |
| 1997 MY | US | CAN | Total for Sale | Pilot | Total Built |
| Purple | 343 | 53 | 396 | 61 | 457 |
| | | | | | |
| --- | --- | --- | --- | --- | --- |
| 1999 MY | US | CAN | Total for Sale | Pilot | Total Built |
| Purple | 1008 | 126 | 1134 | 0 | 1134 |
| Yellow | 561 | 23 | 584 | 21 | 605 |
| Black | 779 | 20 | 799 | 0 | 799 |
| Red | 1322 | 61 | 1383 | 0 | 1383 |
| 1999 Total | 3670 | 230 | 3900 | 21 | 3921 |
fcapsule
| | | | | | |
| --- | --- | --- | --- | --- | --- |
| 2000 MY | US | CAN | Total for Sale | Pilot | Total Built |
| Purple | 0 | 0 | 0 | | 0 |
| Yellow | 526 | 46 | 572 | 0 | 572 |
| Black | 1041 | 71 | 1112 | 0 | 1112 |
| Red | 190 | 0 | 190 | 3 | 193 |
| Silver | 661 | 38 | 699 | 12 | 711 |
| Woodward | 151 | 0 | 151 | 2 | 153 |
| Two/Tone | 0 | 0 | 0 | 5 | 5 |
| 2000 Total | 2569 | 155 | 2724 | 22 | 2746 |
| | | | | | |
| --- | --- | --- | --- | --- | --- |
| 2001 MY | US | CAN | Total for Sale | Pilot | Total Built |
| Purple | 0 | 0 | 0 | 0 | 0 |
| Yellow | 0 | 0 | 0 | 0 | 0 |
| Black | 0 | 0 | 0 | 0 | 0 |
| Red | 0 | 0 | 0 | 0 | 0 |
| Silver | 527 | 18 | 545 | 0 | 545 |
| Woodward | 0 | 0 | 0 | 0 | 0 |
| Black/Tie | 151 | 12 | 163 | 5 | 168 |
| Orange | 669 | 20 | 689 | 6 | 695 |
| Blue – Chrysler | 1178 | 100 | 1278 | 3 | 1281 |
| Black – Chrysler | 1 | 0 | 1 | 0 | 1 |
| Orange – Chrysler | 345 | 0 | 345 | 1 | 346 |
| Silver – Chrysler | 106 | 0 | 106 | 0 | 106 |
| Inca Gold – Chrysler | 0 | 0 | 0 | 0 | 0 |
| 2001 Total | 2977 | 150 | 3127 | 15 | 3142 |
| | | | | | |
| --- | --- | --- | --- | --- | --- |
| 2002 MY | US | CAN | Total for Sale | Pilot | Total Built |
| Blue – Chrysler | 0 | 0 | 0 | 0 | 0 |
| Black – Chrysler | 0 | 0 | 0 | 0 | 0 |
| Orange | 0 | 0 | 0 | 0 | 0 |
| Silver – Chrysler | 98 | 0 | 98 | 0 | 98 |
| Inca Gold – Chrysler | 583 | 30 | 613 | 3 | 616 |
| Yellow – Chrysler | 390 | 30 | 420 | 0 | 420 |
| Candy Red – Chrysler | 274 | 25 | 299 | 2 | 301 |
| High Voltage Blue – Chrysler | 1 | 0 | 1 | 0 | 1 |
| 2002 Total | 1346 | 85 | 1431 | 5 | 1436 |
| | | | | | |
| --- | --- | --- | --- | --- | --- |
| Grand Total | US | CAN | Total for Sale | Pilot | Total Built |
| Purple | 1351 | 179 | 1530 | 61 | 1591 |
| Yellow | 1087 | 69 | 1156 | 21 | 1177 |
| Black | 1820 | 91 | 1911 | 0 | 1911 |
| Red | 1512 | 61 | 1573 | 3 | 1576 |
| Silver | 1188 | 56 | 1244 | 12 | 1256 |
| Woodward | 151 | 0 | 151 | 2 | 153 |
| Two Tone | 0 | 0 | 0 | 5 | 0 |
| Black/Tie | 151 | 12 | 163 | 5 | 168 |
| Orange – Plymouth | 669 | 20 | 689 | 6 | 695 |
| Blue – Chrysler | 1178 | 100 | 1278 | 3 | 1281 |
| Black – Chrysler | 1 | 0 | 1 | 0 | 1 |
| Orange – Chrysler | 345 | 0 | 345 | 1 | 346 |
| Silver – Chrysler | 204 | 0 | 204 | 0 | 204 |
| Inca Gold – Chrysler | 583 | 30 | 613 | 3 | 616 |
| Yellow – Chrysler | 390 | 30 | 420 | 0 | 420 |
| Candy Red – Chrysler | 274 | 25 | 299 | 2 | 301 |
| High Voltage Blue – Chrysler | 1 | 0 | 1 | 0 | 1 |
| Total Plymouth | 7929 | 488 | 8417 | 115 | 8532 |
| Total Chrysler | 2976 | 185 | 3161 | 9 | 3170 |
| Total Prowler | 10905 | 673 | 11578 | 124 | 11702 |
| | |
| --- | --- |
| Trailers | Total Built |
| Purple | 379 |
| Yellow | 183 |
| Black | 183 |
| Red | 194 |
| Silver | 112 |
| Woodward | 26 |
| Black/Tie | 15 |
| Orange | 108 |
| Blue | 68 |
| Inca Gold | 43 |
| Candy Red | 39 |
| High Voltage Blue | 1 |
| Unpainted / Kit | 16 |
| Grand Total* | 1367 |
YEAR TO YEAR CHANGES 1997 Plymouth Prowler:  Only 457 were produced but Prowler would be back for 1999. 1999 Plymouth Prowler:  Reintroduced in spring of 1998 as a '99 model, Prowler had a new V6 engine that produced 253 horsepower–39 more than in 1997. That engine came from the Chrysler 300M and LHS. As before, the sole transmission was a rear-mounted automatic unit with Chrysler's Autostick manual-shift feature. Antilock brakes and traction control remained unavailable. In addition to the original purple body color, the revived Prowler came in yellow, black, or red. Chrome wheels were newly optional, too. 2000 Plymouth Prowler:   Suspension revisions were the major changes this year, along with new body colors. Springs were softened and shock absorbers recalibrated, in an attempt to improve ride and handling. Silver joined the body-color list, replacing yellow and purple. A new chrome bezel and leather boot went on the gearshift, and an automatic-dimming mirror contained an integral compass and trip computer. 2001 Plymouth Prowler:  Adjustable shock absorbers and new colors are the only changes for this limited production model. Production ceased at the end of the year. 2002 Plymouth Prowler:  Inca Gold replaced Mulholland Blue midyear as an option to orange or silver. The last Prowler was put together on February 15, 2002.
Facts about the Prowler
The Prowler was produced at the Conner Avenue Assembly Plant in Detroit where they are built alongside the Dodge Viper production line with the body produced in Shadyside, Ohio. An average of 14 Prowlers a day were built during construction years. Prowler first appeared as a concept car at the 1993 North American International Auto Show in Detroit. Prowler production began in July of 1997 as a 1997 model. Beginning in January 2001, it was branded a Chrysler vehicle.  The Prowler has the distinction of being North America's most aluminium-intensive vehicle.           Last 300 Prowlers were painted Deep Candy Red.  The color  features a new paint technology in its pearl coat that will actually make the car sparkle in bright light. Originally a five-year run for the Prowler was planned when production started in 1997. Prowler features a 3.5-liter 24-valve sequential multi-point electronic fuel injection, 60-degree single overhead cam, all-aluminum V-6 engine that produces 253 horsepower at 6400 rpm, and 255 lb.-ft. of torque at 3950 rpm. The last 300 Prowlers were Painted Deep Candy Red The manufacturer's suggested retail price for 2002 Chrysler Prowler was $44,625, plus $775 for destination.  A matching Prowler trailer was $5,075. Approximately 20 percent of all Prowlers are sold with a matching trailer. Through November of 2001, more than 11,000 Prowlers have been sold.  Of total Prowlers sold; 1,530 were purple, 1,576 were yellow, 1,911 were black, 1,573 were red, 151 were black/red two-tone ("Woodward Edition"), 1,342 were silver, 163 were silver/black two-tone ("Black Tie Edition"), 1,039 were orange, 1,278 were Mulholland Blue,  616 were Inca Gold, and the last 300 were Candy Red.  One Prowler was produced for its creator as one of the last built it was High-Voltage Blue.
Demographics for a Prowler owner: nearly 90 percent male, 70 percent are married, median age of 52 with a median income of $190,000.
The 2001 "Mulholland Edition" Chrysler Prowler was painted Prowler Midnight Blue with a dark blue convertible cloth top. A light blue pinstripe was hand-painted around the upper beltline to give the two-seat roadster even more of a hand-crafted, customized touch. The "Mulholland Edition" Prowler is named after Mulholland Drive in Los Angeles, the scene of countless classic movies and home to many exotic cars.  The manufacturer's suggested retail price (MSRP) for the Mulholland Edition Prowler is $46,000.The Prowler was designed to be loud, hard shifting, and hard riding. However, now that it has the full 250 hp version of the 3.5 V6 engine (it originally had only 214 hp), the Prowler is also fast. The transmission has been tuned to let you feel the power of the engine, rather than to hide it, so each shift comes with an impossible to miss bump.
More than 900 pounds of the 2,780-pound roadster is aluminum ­ including body, frame and suspension parts. The Prowler is a test bed for new material technology. From the welded aluminum extrusions and castings used in the vehicle frame to the metal matrix composite brake rotors.
The Prowler is made of a high-strength aluminum alloy, as used in airplanes and boats, to resist degradation, noise, and oxidation. A new joining process provides the same body stiffness as steel cars, and careful design allowed for similar safety. Cost is still an issue, since aluminum is four times as expensive as steel per pound, which is why the Prowler is made of aluminum and the mass-produced Neon is not.
The magnesium instrument panel, which combines more than 20 stamping and plastic components in a single casting, is eight pounds lighter than a conventional instrument panel construction. An aluminum seat saves another seven pounds. Composite brake rotors take out another 15 pounds of weight. Several aluminum drive line components not only reduce weight but also vibration.
The control arms, rocker arms and knuckles (both front and rear) are made using aluminum that is pressurized into a die, similar to plastic injection molding. The process is called semi-solid forming, and it is stronger than traditional casting with less tendency to weaken over time.
Production of the first Prowler to be sold under the Chrysler brand at Conner Avenue Assembly Plant in Detroit was the 2001 Chrysler Prowler in Mulholland blue.  The final "Conner Avenue Edition" Prowler was built at the Conner Avenue Assembly Plant in Detroit on Feb. 15, 2002. In addition, to being the first and only Prowler with High-Voltage Blue exterior body paint, its other unique features include:
a Mopar® luggage trailer and hitch in the same High-Voltage Blue paint

signatures of the Prowler Team on the vehicle's undercarriage

a blue "Stayfast" soft top by Hartz

bright anodized frame

unique body-color hood badge

body color upper radiator cross member assembly, detailed and signed by renowned striping artist Mr. Rudy Kutey, better known as "Dr. Ru"

unique body color shifter and instrument panel bezels

taupe leather seats with matrix grain inserts

agate door trim panels with unique taupe inserts

custom-wrapped shifter knob
Prowler Facts and Figures
The manufacturer's suggested retail price for 2002 Chrysler Prowler is $44,625, plus $775 for destination. A matching Prowler trailer is $5,075.  And just so you have a place to carry your viola on the way to the concert, the Black Tie Prowler, whose MSRP is $41,300, can also be ordered with a special-edition matching two-tone trailer for $5075.  Approximately 20 percent of all Prowlers are sold with a matching trailer.
Through November of 2001, more than 11,000 Prowlers have been sold. Of total Prowlers sold, 1,530 were purple 1,576 were yellow 1,911 were black 1,573 were red 151 were black/red two-tone ("Woodward Edition") 1,342 were silver 163 were silver/black two-tone ("Black Tie Edition") 1,039 were orange 1,278 were Mulholland Blue 616 were Inca Gold**300 were Candy Red (last made) 1 was High Voltage Blue
1998 Prowler in a Time Capsule  Some folks in Tulsa have burying cars on the brain. To celebrate Tulsa's 100th anniversary in 1998, a new Plymouth Prowler was entombed in an aboveground mausoleum in Centennial Park. It will be unveiled in 2048. The Prowler was encased in a seamless plastic box especially manufactured in Tulsa. Officials drained all the fluids and replaced them with synthetics that won't degrade. The vault was filled with an inert gas to keep the exterior in good shape. The car's garage for 50 years was sealed and covered with dirt. SEE Video:  http://video.aol.com/video-detail/1998-plymouth-prowler-buried-in-a-time-capsule/761681536
On the Prowl(er) for High Standards
The image that comes to mind when you visualize an automotive finishing operation is a scene where a constant flow of cars – arranged end to end – pass through spray booths where finishing robots toil constantly to apply the various colors and clearcoat finishes. Colors are changed frequently, and there is little or no break in the conveyor line of car bodies traveling through the automated system.
This image is a surprising contrast to production at MSX International in Detroit, Michigan. You won't find a finishing robot or a conveyor line at this specialty automotive paint facility, because each finishing step is performed by employees who sand, polish, and paint the vehicles manually. Calling on its extensive experience, it maintains the highest standards in show car finishing capabilities. It's this expertise along with its attention to detail that prompted Chrysler to select MSX to paint its high performance, classic-designed roadster — the Chrysler Prowler which was produced from 1997 through 2001. (The last Prowler was sold at auction in May, 2002. See sidebar, page 61.)
"The Prowler appeals to a very specific driver," said Gary Cibula, MSX Plant Operations Manager. "Production numbers were significantly lower than the typical production volume of automobiles, so it didn't make sense for a large automaker to dedicate production space for these custom products. Instead, companies like ours performed special services for them, such as painting body parts."
MSX International offers the automotive industry a complete range of specialty build services from fabrication to assembly, including full-body paint  capabilities. They have facilities worldwide.
| | |
| --- | --- |
| An operator specifies volume ratios using the PrecisionMix control unit. The control unit is installed just outside the clearcoat spray booth (background) for easy access.  The clearcoat components are transferred to the spray booth from a central pump room. | Having emerged from the two-stage oven, finished Prowler surfaces undergo a thorough final inspection. |
"Even in our situation, a robotic or automated system was not feasible," said Mr. Cibula. "Our daily production of Chrysler Prowlers was 14-17 vehicles. It did not make economical sense to install an automatic finishing system with robotic capabilities for such a short daily run."
This lack of automation does not mean that MSX didn't take advantage of new advances in finishing technology. If new equipment or production methods are cost effective, and can increase production and quality, they will look at the product or process closely.
For instance, when MSX designed the finishing facility for the Prowler in 1995, it needed a system to accurately mix two-component clear coat. It wanted something that was economical, precise, and easy to operate. After careful evaluation and input from the paint supplier, contractor, Chrysler and local finishing equipment supplier, MSX selected Graco's Precision Mix electronic proportioning system.
The Precision Mix proportioner sequentially metered and dispensed the two-component clear coat—a 1:1 ratio, high gloss formula from PPG. The patented digital control unit provides a maximum flow rate of 4,000 cc/mm and assures proportioning accuracy within +1%. Volume ratios vary infinitely from 0.6:1 to 30:1.
MSX installed the proportioner outside the clear coat spray booth so operators had easy access to it. According to Richard Underwood, paint job supervisor, the system is simple and reliable. "Our production people don't have to worry about off-ratio problems, because they're getting the same pre-selected recipe whenever they pick up their spray guns. They can verify this input on the proportioner's screen monitor. This allows our painters to focus on what they do best and that's applying a quality finish."
"We haven't had any problems with the system since it was installed," he added. "It does exactly what we expect it to do—day in and day out."
In fact, the proportioner did such a good job mixing and dispensing clear coat that MSX added a second system to proportion clear coat in another booth. According to Mr. Underwood, "We were hand-mixing the 1:1 ratio material and spraying it from pressure pots. It wasn't a very economical operation. The system has allowed us to reduce labor and material expenses."
Another benefit of the system is its reporting capabilities. The system allows MSX to monitor material usage. It used the information to analyze production and VOC trends.
The clear coat components are transferred from a central pump room where they are pumped from 55-gallon drums to the respective proportioner. Graco Glutton 4:1 stainless steel diaphragm pumps were recently installed to transfer the plural component materials. "We replaced a number of other pumps that didn't have the output we required. The Glutton pumps are providing with the pressure and flow we need to meet our system requirements," said Mr. Underwood.
Prowler System Operation Parts that arrived at the MSX facility had been e-coated by a company that fabricated the metal body parts. The parts were loaded onto portable carts (each cart carried all the body parts to complete one Prowler) and were wheeled to the scuff sand booth where imperfections were sanded out. After the sanding process, the parts were pressure washed with DI water and then baked at 290F. This step removed excess gas from the substrate that otherwise could release later, causing blemishes to the finish.
he first material MSX sprayed was a single-component primer. Painters using conventional air spray guns applied three coats to attain a coverage of 1.5 mils. The primer is fast-drying, allowing the second and third coat to be applied 3-5 minutes after the previous coat. After the primer was applied, the painter wheeled the cart into a heated area where the primer cured at 95F for 20 minutes. From this heated area, the parts were moved into a two-stage oven. Temperatures were 240F in the first stage and 290F in the second stage. Parts remained in each stage for 20 minutes. According to Mr. Underwood, this provided optimum cure rate and also kept the product moving smoothly through the system.
After the parts were removed from the primer oven, they were inspected. Any imperfections caused by dirt or other airborne contaminants were sanded out of the finish. These parts were washed and retouched. Then the cart was wheeled into the color booth where the base coat was applied.
"We had a unique situation here" said Mr. Cibula. "Many automotive finishing operations have to contend with frequent color changes during the day. Our color batches were for 800 vehicles, so once we start painting a color we stayed with that color for approximately three months.
"To say the least, a color change was a big event here," he added. "After spraying the same color for three months, our painters really looked forward to a change!"
After the color coat was sprayed, the parts were transported to a flash zone to drive the solvents out of the base coat. They remained there for 20 minutes at 110F. From the flash zone, the carts were rolled into the clearcoat booth where painters applied a polyurethane coating of 2.2 to 2.5 mils. After the parts were sprayed, they were rolled into an infrared flash zone for 20 minutes and then into another two-stage oven where the parts were heated at 195F and 285F, respectively.
Next, every inch of the parts finished surface was inspected. Upon passing inspection, the high gloss parts were meticulously polished. The parts were transported to a final inspection area. When they passed this inspection, they were transported to another part of the facility and were "signed" back to the company that fabricated the parts for assembly. Typically, a cart carrying the parts of a complete Prowler was in MSX's control for 48 hours.
"When the parts left our facility they carried the best finish available today," Mr. Underwood concluded. "And the Graco Precision Mix proportioners helped us attain that finish. They have met our quality requirements and have proved over the last six years to be very reliable."
Last Prowler – Going to Auction for a Worthy Cause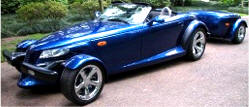 The last and most creative Chrysler Prowler ever built – complete with a time capsule that contains rare Prowler memorabilia, including signed, original styling sketches and other unique Prowler items – was auctioned at Christie's Auction House in Manhattan, N.Y. on May 18, 2002 for $175,000
The DaimlerChrysler Corporation Fund, the company's philanthropic arm, donated the 2002 model year Prowler to the National Multiple Sclerosis Society (NMSS) for purposes of the auction. The NMSS received all proceeds from the auction of the Prowler.
The final "Conner Avenue Edition" Prowler was built at the Conner Avenue Assembly Plant in Detroit on Feb. 15, 2002. In addition to being the first and only Prowler with High-Voltage Blue exterior body paint, it featured a bright anodized frame, unique body-color hood badge, custom-wrapped shifter knob, and signatures of the Prowler Team on the undercarriage.
Prowler first appeared as a concept car at the 1993 North American International Auto Show in Detroit. Favorable response prompted the former Chrysler Corporation to unveil a production version of Plymouth Prowler at the 1996 North American International Auto Show. Official production began in June, 1997 as a 1997 model at Conner Avenue Assembly Plant. With the discontinuation of the Plymouth brand in January of 2000, Prowler continued as a Chrysler.
 Assemblers salute Prowler No. 10,000 Workers applaud milestone for car that is hand-built By Detroit News wire services

 DETROIT — Surrounded by the workers who built it by hand, the 10,000th Chrysler Prowler slowly rolled off the line at the Conner Avenue assembly plant Tuesday, five years after the first one was produced.

The group of about 20 workers cheered and applauded as a colleague drove the bright orange car past them, honking the hot rod's horn and revving its engine. Henry Pettway, the man co-workers nicknamed Mr. Prowler because he has worked at the plant since the first Prowler went into production in 1996, said the secret to the retro-looking rod's success is simple. "Old style and new technology. The two of them work together real well," he said as he beamed at the milestone car. "We really handle these cars with kid gloves," said co-worker Philip Rolack. Unlike many other production vehicles, the Prowler isn't assembled on a continuously moving line. Each one is built by hand by a group of hand-picked workers who produce just 14 a day. "You have to be interviewed to be accepted," James Hardy, financial secretary of United Auto Workers Local 212. "It's the best of the best." The Prowler was introduced as a concept vehicle in 1993 at the Detroit auto show. It proved to be a crowd magnet that persuaded Chrysler to build a production version for the 1997 model year. "The thought behind the car was we're just going to build a car that's in a unique position in the market that really played off on the emotional attractiveness and the passion some people have for cars," said Steve Bartoli, director of Chrysler brand marketing. The company purposely built the Prowler in low volumes to maintain quality and the car's mystique. Production will continue because demand for the vehicle remains strong, even as the Plymouth brand that launched the car nears its end, Chrysler officials said. "As long as the market remains strong, we don't see any reason to end production," Bartoli said. The automaker discussed killing off the Prowler when the Plymouth brand ends this year. The car began as a Plymouth in 1997 and was switched to the Chrysler brand in January. Prowler sales rose 11 percent in 2000 in the United States to 2,631, though they fell 31 percent to 941 this year through May with the brand change. Monthly sales have climbed back to the 200 to 300 the company needs, Bartoli said. The Prowler has inspired car clubs nationwide. Plymouth-Chrysler Prowler Club member Rick Gallaher, 56, of Minneapolis, said he just had to have one. "It's everything I've ever wanted in a car," said Gallaher, who owns a black Prowler. "It's three cars in one: a sports car, a luxury car, a street car." The two-seater is fairly pricey, starting at about $45,400.
The Plymouth Prowler: Aluminum Intensity & Intensity of PurposeThis month, the Prowler hits the streets as a production automobile. It is a study not only in taking chances in design, but also in pushing the envelope in materials application.


By Gary S. Vasilash, Editor-In-Chief

Aluminum Intensity
When Chrysler unveiled the Plymouth Prowler in Detroit at the 1993 North American International Auto Show, it was a concept car. Concept cars tend to be stunning examples of designers' imaginations, of what could be, only if…At the 1997 North American International Auto Show the Prowler is, in effect, akin to the Neon and the Breeze. Like them, it is a production car. Of course, this is not your run-of-the-mill vehicle.For one thing, beneath that purple paint there are more than 900 pounds of aluminum. Given that the whole thing tips the scales at 2,780 pounds, and given the fact that aluminum is light, that is, to say the very least, a lot of aluminum. The point is: This hot rod is not only out-of-the-box in terms of the design thinking that's behind it, it is also way out there in terms of driving forward alternative approaches to productionizing the material.Consider this, for example. For years, commercial aircraft have been riveted. Cars, on the other hard, have been welded, typically with resistance welding. But what if spot welds were replaced with rivets? The Chrysler engineers—as the company's ad says—questioned everything. And they asked a question about rivets and welds. And although there is welding on the Prowler—a prime example is the frame, as will be noted below—the spot welds are replaced by rivets. Of course, rivets have typically taken longer to apply than spot welds, and since cycle time is key in automotive, there was a concern about the riveting time requirement. So it was a matter of pushing that technology forward. Rivets are placed on the Prowler in a one-second cycle. (One interesting aspect of using this mechanical joining method: sheets of different thicknesses can be put together.) But then there is the issue of stiffness. Which led to the need to utilize epoxy adhesives. So now there is a combination of technologies, with rivets used in combination with adhesives. The result is a structure with a stiffness that's improved by 40%."At Chrysler," says Dr. Saad M. Abouzahr, Prowler Materials Executive, Team Prowler, "we approach new technology with an open mind. If it is the best way, then we do it." As so with Prowler, they did just that.As Abouzahr admits, there is a wealth of know-how existing relating to how to process steel for automotive production. There isn't a comparable knowledge base existent for aluminum. But as Chrysler, like all carmakers, faces the need to develop vehicles that are lighter and therefore which provide more miles per gallon, there is the need to start aggressively climbing the learning curve so that there are material alternatives.Chrysler has worked with aluminum before. Abouzahr references, for example, the "Neon Lite" project that was conducted in 1994. "We learned quite a bit about processing," Abouzahr admits. They did weld bonding, riveting, and rivet bonding on that vehicle which was, as the name implies, an aluminized version of the existing steel-architecture Neon. By replacing steel panels with aluminum, the body weight was cut by 50%; overall, a 25% weight reduction was achieved for the Neon Lite. But the resultant vehicle, while incredibly stiff (Abouzahr notes that the combination of adhesives and rivets helps create an excellent assembly so far as stiffness—which contributes good noise, vibration and harshness [NVH] measuresis concerned) was also incredibly stiff vis-à-vis financial considerations.The Prowler program is not about taking an existing design and then making it an alternative version. Rather, it is starting with the clean screen and developing a vehicle and the requisite process technology so that the Prowler is a production car, not a one-off, albeit a comparatively minimal production vehicle. This month the Prowler goes into production at the Chrysler Conner Avenue Assembly Plant in Detroit. The projected first-year volume: 3,000 vehicles. Conner, incidentally, happens to be where another innovative vehicle is built: the Dodge Viper."We've never built a vehicle like this," Abouzahr says, citing, for example, the frame. Ordinarily, he explains, car frames are steel that's been stamped or roll formed. In the case of the Prowler, the components are extrusions and castings produced with 6061 and 6063 aluminum alloys, T6 temper. The pieces are then joined with MIG welding. There is quite a bit of welding: 105 feet of MIG welding per frame. Abouzahr points out that arc welding is something that's usually avoided whenever possible when working with steel, due to warpage concerns. The assembled aluminum frame is measured post-welding; any deviations from nominal dimensions are corrected through machining. That's right: the entire frame is fixtured and milled.With regard to the body tub, however, steel technology had a lot to do with what is being done. That is, although the tub components are, for the most part, 5454-0 aluminum alloy, Abouzahr explains that they are stamped components. Stamping steel is well understood. In the case of Prowler, steel dies are usedjust as they would be if the tub was fabricated with steel components. "In principle," Abouzahr admits, "it is the same stamping process."Without a doubt, the Prowler is an aluminum-intensive vehicle. In addition to the previously mentioned components, there are aluminum A357-T6 control arms, rocker arms and knuckles. Aluminum alloy 6022-T6 is used for the hood, decklid, doors, and hood side panels. Various castings are made from A-356-T6. There is an aluminum seat frame. There is an aluminum-composite material used for the brake rotors.But the idea behind the development of the vehicle wasn't to use aluminum everywhere, just in places that made sense. So, for example, the front hinge pillar reinforcement and the tapping plates are made with cold-rolled low-carbon steel. Sheet molding compound (SMC) is used for the front and rear quarter panels, the rear valance panel and the fenders. Acrylonitryle-butadiene-styrene (ABS) plastic is used for the grill. Reaction injection molding (RIM) urethane is used for the front fasica and front and rear bumper covers. The frame for the instrument panel is a magnesium casting (this single casting combines 20 stamped or molded pieces into a single part).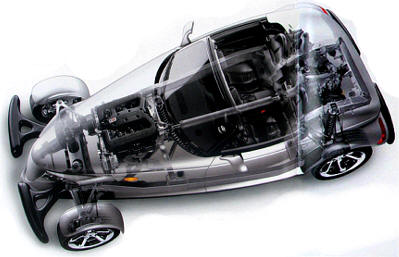 The Supplier Story.
But the whole Prowler program is not just about materials. Prowler represents "how to make a car" in another sense, this related to those companies that are working with Chrysler to produce the car. In Chrysler parlance, this is known as the "Extended Enterprise."All automotive companies use suppliers. The relationships that exist between the customers and the suppliers are what provide the distinguishing characteristics from OEM to OEM, and as a greater emphasis is put on (1) supply chain management and (2) core competencies, those relations are increasingly important.The issue is fundamentally one of success. The question is how the people involved work with one another. Historically, the relationship was characterized in the U.S. auto industry more by conflict than cooperation. The OEMs were the customers, and the customer, as the saying has had it for too many years, is always right. This often manifests itself as: "This is what we want. This is how you make it. And this is the price you are going to sell it for." What was more than implied was that if the supplier didn't cross the proverbial "t"s and dot the "i"s, the customer would go elsewhere for the product. After all, there was undoubtedly more than one supplier providing the very same product to the very same OEM—just in case.When the Japanese auto manufacturers started providing vehicles that had exemplary quality and comparatively lower costs vis-à-vis the then-prevailing U.S. products, how they were able to accomplish that feat became a focus of study. One of the discoveries was that the OEM-supplier relationship in Japan tended to be one characterized by the striving for mutual benefit. This was not the effect of some Eastern altruism. Rather, the Japanese OEMs often had a stake—a financial one—in the supplier companies. The term is keiretsu. It is not hard to figure out how—and why—this works. The suppliers are part of the OEM organization. So their ideas about how things can be done have credibility. Contrast this with an underlying suspicion that whatever a supplier might suggest is probably predicted on self-interest, not mutual gain. In the Japanese arrangement, there is a basis of shared gain because even though the relationships might be arms-length (i.e., independent operations), there is a recognition that the fingers at the ends of the arms are important to how well those arms will function.Chrysler is a company that aims to do more with less. Approximately 70% of the components in its vehicles come from outside suppliers. One alternative it had with regard to creating better relationships with its suppliers would be for Chrysler—a la the Japanese—to buy into its suppliers. But Chrysler can be characterized by a brilliant frugality. Thomas T. Stallkamp, executive vice president-Procurement & Supply (and general manager-Minivan Operations), and his colleagues decided that what they would do is develop, in Stallkamp's phrase, "equity in spirit," rather than equity in cash.

An underlying assumption is that the supplier companies are good at what they do, therefore it is in Chrysler's best interest to let them do it as long as it is in the best interest of the company. Further, if the suppliers recognize that they can gain through working with Chrysler, then they are more likely to give their all to the initiative. To help assure that this occurs in practice, Chrysler established the SCORE program—Supplier Cost Reduction Effort. An objective is to encourage the suppliers to find better ways and means to develop and manufacture products so that cost savings realized would be of mutual benefit.

Prowler is an excellent example of this approach in action, particularly as it pertains to the suppliers of aluminum. Although there are multiple suppliers of the material—ALCOA, Alumax, and Duralcan—this is not the classic case of pitting one supplier against the other. Rather, each of the companies has a particular expertise. So ALCOA provides frame, bumper and body material. Alumax provides suspension components. And Duralcan provides aluminum rotor material. The customer wins in the end.

Gale on the Prowler
Thomas C. Gale, until December 5, 1996, was Chrysler's vice president-Product Design and International Operations. Thus, the Prowler design activities occurred under his watch. We talked with him on December 4th about the Prowler. On the 5th he was named executive vice president-Product Development. He still leads design, but has added engineering and product strategy to his concerns. (International Operations were assigned to Francois J. Castaing, who is also the general manager-Powertrain Operations.)

"First and foremost," Gale said, "Prowler is an attempt to create an image for the Plymouth brand in a way not unlike what Viper did for Dodge." That the two vehicles are made in the same plant is probably not a coincidence.

Not only is Prowler something out there for people to see—Gale noted, "the product-as-billboard is valid in this case" and he said that people who have a Prowler ought to plan to spend plenty of time talking about it every time they park it—but it also provides a boost for Chrysler employees: "It is a strong inspiration inside the company." Gale said that there are concerted efforts by senior executives within the organization to help change the culture so that people will feel proud of what they are doing. "We want everyone to feel a certain amount of ownership—which is critical to success," he maintained.

"We must have a passion for what we do," Gale stated. Does Prowler help foster a sense of passion throughout the organization, whether the person is a designer or a machinist? "Absolutely," he firmly replied.
Chrysler's Prowler: more than a material showcase, it's a real product – car uses light-weight, innovative materials and off-the-shelf parts
Ward's Auto World
,  March, 1996  by Drew Winter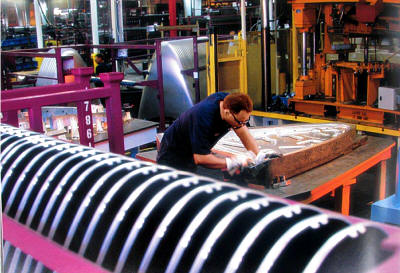 Anyone wondering why Chrysler Corp. has some of the world's lowest product-development costs should visit their local Plymouth showroom early next year. Sitting there, briefly, in a few lucky dealerships, will be one of the more technologically impressive production vehicles to come along in some time.
Even if you hate its retro-style looks, pull your nose up at its mundane 3.5L engine, and sneer at Chrysler's low-cost "let's use only off-the-shelf components from our parts bin" development strategy. No matter what, the Plymouth Prowler is a heck of a showcase for lightweight materials technology, including:
* A lightweight aluminum body structure with full-perimeter frame made of aluminum castings and extrusions and featuring innovative self-piercing rivet and adhesive bonding techniques for critical joints.
* Body panels made of a brand-new 6022 aluminum alloy that breaks new ground in strength and formability.
* Other body panels made of a new SMC (sheet molding composite) that is lighter and more flexible than conventional SMC material.
* Aluminum suspension components made with a new semi-solid forging process that produces engineering properties formerly unheard of for such parts.
* A giant magnesium instrument panel support structure that not only saves weight but consolidates parts and cuts assembly costs.
* Aluminum composite brake rotors that are half the weight of conventional cast iron.
Granted, most automakers are working on experimental lightweight vehicle development programs, but the Prowler — thanks to heavy technological commitments from suppliers — is a materials showcase with a difference: It actually will be sold in the marketplace, and quite possibly at a profit.
Coming to Plymouth showrooms in the first quarter of 1997, it has a 5,000-unit plus annual production volume and a semi-affordable sticker of about $35,000. Total program cost: about $75 million. In the world of automotive new-product development, that's postage stamp money. Not bad for a company that less than two years ago was criticized for being too lean and lacking adequate research and development capabilities.
That's not to say other automakers don't have interesting materials projects under way. The Big Three all are contributing significant resources to the Partnership for a New Generation of Vehicles (PNGV), a joint research project between the U.S. federal government and their USCAR technology consortium. It's aimed at bringing a Taurus-size family car to market early in the next century that gets triple the fuel economy of today.
What's more, Ford Motor Co. has its aluminum intensive vehicle (AIV) program, a $25 million fleet of 20 aluminum-bodied Sables, plus aluminum-bodied Synthesis and Synergy concept cars. But you can't buy them. General Motors Corp. has its new EV1 electric car, a lightweight technological tour-de-force with an aluminum body structure that goes on sale this year. You can buy one of those for $30,000 pr so, but GM says it will never make a dime of profit on the car.
There also are light-weight, aluminum-intensive products available from Japanese and European automakers, such as the almost-extinct Acura NSX, the Audi AG A8 and the Lotus Elise — but they are very low volume, very expensive — or both.
Of course, aluminum-bodied Rover sport/utility vehicles are made in substantial numbers, but they aren't the least bit lightweight. Neither is the aluminum-bodied Hummer. That pretty much leaves the Prowler crouching alone in the realm of real-world aluminum-intensive production vehicles.
Among the most interesting elements of its lightweight strategy is that much of its materials technology has been directly transferred from Chrysler's Neon Lite program, unveiled 18 months ago. The program focused on using advanced — but semi-practical — alternative materials to chop the Neon's weight by 600 lbs. (272 kg) and improve fuel economy by about 5 mpg. High-priced exotic materials that clearly couldn't be put into production cost effectively — such as carbon fiber composites — were ignored.
That translated into using magnesium, glass-reinforced composites, and lots of aluminum. Francois J. Castaing, Chrysler's vice president of vehicle engineering, said then that the automaker would never introduce an all-aluminum Neon because it would be too expensive, and consumers wouldn't be interested in paying 20% to 25% simply for lighter weight.  However, he did say what was learned would be transferred to "future vehicle programs." He practically mouthed the word "Prowler."
In fact, some engineers at a press event unveiling the Neon Lite found themselves yanking business cards out of journalists' hands because they accidentally gave them new ones featuring Prowler titles — and a picture of the car.  Saad M. Abouzahr was one such engineer. He supervised materials development on the Neon Lite, and then moved directly from that position to become materials executive on the Prowler program. He says the new car's innovative magnesium instrument panel support structure, aluminum bonding technology and aluminum composite brakes all came directly from Neon Lite research.
However, taking these new technologies and actually putting them into production takes the challenge to a new level. For instance, it was one thing to determine that self-piercing rivets combined with heat-cured adhesives provide the strongest, most cost-effective approach for bonding critical joints in aluminum body structures. It was quite another to actually devise a production system to do such joints, even for Prowler's relatively low volume.  But just as the Neon Lite provided a technological foundation for the Prowler, what is being learned now in Prowler production could lead to innovations on much higher-volume, mainstream vehicles in the future, Mr. Abouzahr says.
Some of Prowler's most significant materials innovations:
* Aluminum supplier Alcoa developed a new high-strength 6022 aluminum alloy for Prowler body panels that hits new levels in strength and formability, Mr. Abouzahr says. A heat-treatable alloy, the aluminum sheet is initially soft and formable, but after it runs through the high heat of the paint bake ovens used to cure automotive paint jobs, it becomes very strong and stiff, like a bake-hardenable steel. This material surpasses other special aluminum body panel alloys such as 6111, which offers good strength, but is not as formable, Mr. Abouzahr says.
* Key aluminum suspension components such as control arms are created using a new semi-solid forging process that makes them stronger, tougher and closer to the desired net shape. In a process similar to plastic injection molding, small billets of aluminum are heated until they are soft as butter and then put into a die. The process changes the texture and microstructure of the aluminum. "We're getting properties you've never heard of getting," Mr. Abouzahr says.
* The Prowler team also broke new ground in the way aluminum is supplied. The light metal has two key drawbacks for automakers, it costs three to four times as much as steel, and its price historically is very volatile because it is traded on world markets as a commodity "like pork bellies," critics often say. The Prowler team addressed the latter issue by negotiating a long-term pricing arrangement with aluminum suppliers to protect against major price fluctuations.
1996 PRIMEDIA Business Magazines & Media Inc.
2004 Gale Group
PG on Wheels: Prowler may not be practical, but Chrysler hot rod oozes fun 

Friday, August 31, 2001 
By Don Hammonds, Post-Gazette Auto Reviewer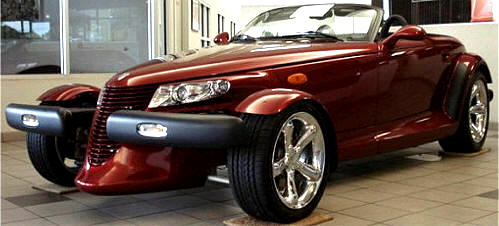 Oh, this car! It has no interior room. No trunk. No gizmos of any kind. No handy-dandy navigation system. Only two seats. A CD system you have to be a contortionist to reach.
But so what? It's also the most fun you will ever have on four wheels, a not-to-be-missed experience. That's assuming, of course, that all the curiosity seekers leave you alone enough to have time to drive it.
That, dear readers, sums up the 2001 Chrysler Prowler, a low production, high octane, entertaining toy — and I do mean toy.
From the moment that this blue pleasure palace pulled up to the Post-Gazette, it created an uproar unlike anything I've ever seen. "You go, bay-bee!" shouted one woman jumping up and down on the street.
One night, I took one of my friends out for a birthday bash and the easy-going, self-effacing guy almost died from embarrassment. Everybody gawked, pointed, drooled or just stopped in their tracks.
While I had the car, it was thumbs up and finger snaps everywhere from onlookers. At traffic lights, people jumped out of their cars, pointed their cameras at me and the car, then jumped back in and disappeared before the light changed.
Meanwhile at work, things were no quieter. I must have gotten half a dozen calls from co-workers begging for the keys.
Chrysler's Prowler, which used to be known as the Plymouth Prowler before the brand was dropped, was born on the drawing board at Chrysler's Pacifica Design Center in California in 1990. It began production in 1997, based on a stunning show car that debuted at the 1993 North American International Auto Show in Detroit. The 10,000th Prowler was produced just this year, a flaming orange color.
The first ones were purple, and each year Chrysler picks three or four exclusive colors for it, retiring the others, thus heightening the car's value as a collectible. It's awfully popular with the celebrity crowd, including the Backstreet Boys and the '70s rock group Kiss.
Ours was Prowler Midnight Blue Pearl Coat with a light blue stripe and matching dark blue top and the most outrageous chrome wheels and exhaust pipes you've ever seen. Call it Viagra on wheels.
Mine sold for $46,000, a figure which absolutely blew away people who mostly thought it had to be several hundred thousand a copy because of its custom looks. Let's go for a drive.
Open the door and suck it in. It's not easy to get to the seat. Getting into this car requires the ability to bend one's body into a shape that Mother Nature clearly did not intend.
But once you're in, va-va-va-vroom! The dashboard's oval shaped-gauges are vintage '50s and '60s hot-rods, with glass covers that, at night, take on a futuristic, shiny look as outside lights bounce off the surface.
The first thing you notice about it is the big round tachometer on the steering wheel, which helps maximize your driving pleasure by taking full advantage of Chrysler's terrific auto stick that allows manual shifting.
Turn the key. "VaROOOM! Rumpa-rumpa-rumpa … vaROOM!" Not only does it sound like a rocket, it moves just about as fast — 0 to 60 in seven seconds or fewer — and you can feel the car shifting through the gears at what seems breakneck speed. It was hard for me to believe this is the same engine — 253-horsepower, 3.5-liter V-6 — that powers such super-quiet luxury cars as the Chrysler LHS.
When I first saw the Prowler, I was leery of the fragile appearance of the front end. The hood comes to a point flanked by two futuristic rectangular headlights, and the suspension and steering system are exposed to the elements. The tires are under fenders that turn with the car as you do.
But I discovered there's not a bit of difference between how you feel driving the Prowler and how you feel with any other high-performance automobile. There is a lot of body shake as the car rumbles down the road, but that's part of the experience. The handling never, ever gets out of control, and this thing goes around corners and sticks to the street like glue.
By the way, if you need some exercise, I've got just the ticket. Try to get that top down. The top is manually operated and it's here to … pump you up! First you try to unhook some catches near the window frame that don't seem to want to loosen up. Then you push up with all your might to free the top at the windshield frame. Then you throw back the front seat to get to a handle under the back window to unlatch the back part of the top. Finally, you lift the back part of the top and tilt the whole top backward into the open trunk area, which unlatches with a yellow button inside the rear side part of the car.
Got all that? Chrysler has a reassuring note in the owners' manual that promises that as time goes on, the top loosens up.
Speaking of trunk space, there isn't any. You'd better travel light — maybe a stick of deodorant, a change of socks and underwear under the front seat — or buy an optional Prowler trailer sold by Chrysler.
The other big negative for me was the cassette/disc player, which is thoughtlessly located behind the passenger's seat, sticking straight up in a tiny, cramped space. Not the easiest thing in the world to get to.
But with all of its faults, the Prowler is peerless. Other than a Corvette — and they're hopelessly conventional next to one of these –you will not meet its match anywhere in an American car showroom.
The Bottom Line:
2001 Chrysler Prowler 
Price: $46,000 
Fuel economy: 17 in the city, 23 on the highwayThis one's for you if … you're me! I loved this car despite all of it's obvious drawbacks: No room, rough ride, top that's tough as nails to lower, etc. I'm no different from any other Walter Mitty type out there who goes wild when you hand him or her the keys to some exotic piece of machinery. I've been a good boy, Lord. I want it, I want it, I want it! W-a-a-h!! 
What's the buzz? Everybody wants it. Everybody sees it — and wants you. Need to know anything else? Somehow, I didn't think so! 
In a family way? Uh … no.

2000 Plymouth Prowler
The Lazarus Plymouth creates its own Dream Cruise at every stoplight.
| | | | |
| --- | --- | --- | --- |
| by Bob Storck  | |   | (2000-08-21) |
SCOTTSDALE, Ariz. – I've driven down Sunset Boulevard in a metallic plum-colored Prowler, getting more looks and waves than the Rose parade. Then a year later I repeated the trip with a screaming yellow version in this trendy desert town. Same reaction.
Plymouth has developed a great antidote for mid-life crisis. But can the world's first "factory-built" hot rod breathe new life into a brand that Chrysler was ready to abandon just a few years ago?
Unfortunately the answer was no, and the brand is slated for oblivion next year. At first the Prowler was going into the automotive dustbin, too, but demand has caused the axe wielders to pause in the down stroke. Now it will continue as a Chrysler, and those with one badge or the other are bound to become more collectible.
Instant collector's item?
The Prowler made its debut as a 1993 concept car. The two-seater captured the excitement of the great classic hot rods, and proved so popular that Chrysler was inspired to put the car into production as a low-volume showpiece.
For 1999, new features included a new all-aluminum, 253-horsepower, 3.5-liter V-6 engine; it has 39 more horsepower than the cast-iron engine in the 1997 Prowler. That year the Prowler also featured a new on-off switch for the passenger airbag, improved window switch gear and enhanced speaker cover treatments for the Prowler's "boom box" speakers. (If someone offers you a 1998 Prowler, politely decline, as the car skipped a year in its evolution, a combination of marketing and government regulatory shuffling.)
For 2000, the only change is the availability of a new color, silver, in the Prowler's palette, plus some minor interior improvements and some suspension refinement. Purple, you'll remember, was the first hue; a second color, yellow, was offered starting in mid-1999, followed by red and black later in the year, run down the line in batches. Other colors include a red and black two-tone special Woodward Dream Cruise edition.
Nose first
Chrysler's styling studios have become known for some of the auto industry's most innovative designs, and the innovatively retro Prowler is bound to become one of their hallmarks. Take a touch of Ford's '34 roadster. Add the radiator cowl and a few features of the classic Indianapolis championship cars. Spend a few weeks reading 50's issues of Hot Rod and Car Craft. Then wrap it up with high tech features stolen from racecars and the aerospace industry. You wind up ready to recreate the movies that made James Dean and Marlon Brando household names.
Its broad rear tapers to a narrow nose, and the low profile front tires are set more than a foot outside the body with all the springs and shocks buried in the narrow nose. If it were not for the government mandated front bumpers (true 5-mph protection), the Prowler's front end would be as clean as an Indy car's. In order to improve the balance, the transaxle is shifted to the rear with a short engine speed driveshaft in between – just like Ferraris and the new Corvette.
As a result, Prowler is just about the only hot rod with independent suspension. Some writers have niggled about the 1997 V-6's inability to chirp the fat rear tires. The new engine will please them. I spent enough time running twisty mountain roads and proving ground skid pads to properly appreciate the balance and road holding these sticky tires and this layout produces.
Underneath the skin, the Plymouth Prowler is a "rolling test bed," designed to prove a variety of new materials and techniques. The drive-train and suspension layouts are stolen from racecar engineering parts bins. All the bodywork is bonded aluminum, and when Chrysler added its new line of engines, this lightweight metal came to dominate the vehicle. Even the rear disk brakes are constructed of an aluminum matrix composite. Only a few limited-production cars use such exotic, weight-saving features.
The tires are well worth touting. Chrysler engineers worked with Goodyear to develop a customized "run flat" tire which can keep going for up to 50 miles, yet still maintain sports car handling. There's no place for a spare tire – there's barely room for a briefcase and a folding garment bag in what passes for a trunk.
I recently traveled around Southern California over the Christmas week, and had packed for the Prowler and had no problems. I even had chosen my Christmas gifts according to my transport, and everything fit under the trunk lid. Unfortunately, my friends and family did not, and their gifts to me were often a challenge to pack. If a cross country lifestyle is a must, Plymouth will supply a trailer styled and painted to match your car.
The top is ample protection for the elements and has no rattles or squeaks, but wide tires and rear drive will keep most Prowlers in garages during the nasty times. Even so, its top is snug in spring showers, although it sacrifices vision to styling. Still, it has a heated glass rear window to help prevent misting and preserve that limited vision.
At $43,725, the Prowler includes a long list of standard features, such as dual airbags, air conditioning, power windows and door locks, a 320-watt Infinity stereo system with compact disc player and a fully retractable convertible top. It also includes the ability to induce hypnosis in other folks on the road. Exercise your power carefully.
2000 Plymouth ProwlerBase Price: $43,725
Engine: 3.5-liter V-6, 253 hp
Transmission: four-speed automatic with AutoStick control
Wheelbase: 113.3 in
Length: 165.3 in
Width: 76.5 in
Height: 50.9 in
Weight: 2838 lb
Fuel economy: 17 city/ 23 hwy
Major standard equipment: 
Dual airbags
Air conditioning
Power windows and door locks
Infinity 320-watt stereo system with compact disc player
Retractable convertible top 
A Canadian Perspective:
Test Drive: 2000 Plymouth Prowler


Now into its fourth model year, the 2000 Prowler has new Goodyear runflat tires, a recalibrated suspension, auto-dimming rearview mirror, and speed-dependent stereo volume. Prowlers have the same 253 horsepower 3.5 litre V6 engine engine used in the Chrysler LHS and 300M, and a 4-speed automatic 'AutoStick' transmission mounted at the rear for better weight distribution.

Chrysler's tribute to the hot rod still turns heads
by Greg Wilson is a Vancouver-based automotive journalist and editor of CanadianDriverThe Plymouth Prowler was first introduced as a concept car at the 1993 North American International Auto Show in Detroit. Reaction to it, as you can imagine, was a mixture of surprise and amazement. No one expected a major car manufacturer to produce a limited-production retro-styled hot-rod. The Prowler was given the Plymouth nameplate to help boost that brand's image, which it did – but not enough to save the Plymouth brand which is to be discontinued next year.
As the initial public reaction to the Prowler was overwhelmingly positive, Chrysler built a production version using the 1993 Dodge Intrepid platform with rear-wheel-drive. It was unveiled at the 1996 Detroit car show, and production began in July of 1997 at the Conner Avenue Assembly Plant in Detroit (where the Dodge Viper is also built). The first Prowlers reached Canada late in 1997.Since it was produced in limited numbers and was so popular, the 1997 Prowler often sold for thousands of dollars over the original suggested retail price of $52,100.
The Prowler skipped the 1998 model year, but the 1997 model continued in production until a revised 1999 model came along. While the 1997 Prowler had the same 214 horsepower 3.5 litre SOHC 24 valve V6 engine offered in the uplevel Chrysler Intrepid and Concorde, the 1999 Prowler switched to a new, all-aluminum 253 horsepower 3.5 litre SOHC 24 valve V6, the same engine used in the recently-redesigned LHS and 300M.
In addition, 1999 Prowler's added de-powered airbags with a passenger-side cutoff switch, an 'express-down' driver's-side power window, and illuminated power window switches.
Some Changes for 2000
For model year 2000, Prowlers receive new Goodyear Eagle GSD EMT runflat tires designed specifically for the Prowler. They have a stickier front tire compound for improved grip but they are heavier than standard tires. To improve the Prowler's ride, 2000 models have recalibrated Koni shocks, reduced spring rates, and new ball joints in the rear suspension lateral links.
Interior changes for 2000 include an automatic, speed-dependent stereo volume control, a new mute switch, and a leather shift boot. A new 'electrochromic' rearview mirror automatically dims at night to reduce glare, and the mirror includes a built in compass, outside temperature reading, and mini trip computer.
Originally, Prowler's came in any colour you wanted as long as it was 'Prowler Purple'. This year, there are three colours, 'Prowler Silver Metallic', 'Prowler Black' and 'Prowler Red'.
Outrageous Styling
From just about any angle, the Prowler's wild styling is a feast for the eyes. Its tapered body and exposed front tires and wheels mimic the original 'fenderless' Ford and Chevy coupes of the 40's and 50's. To prevent wheel spray, the Prowler has small, front fenders that turn with the tires. Like early hot rods, the front tires and wheels are smaller than the rear tires and wheels – although it should be mentioned that the original hot-rods never had low-profile, high-speed, run-flat tires. The Prowler's front tires are P225/45HR-17 inch, and the rears are P295/40HR-20 inch mounted on five-spoke silver, or optional chrome alloy wheels.Rather than the separate headlamps common to hot-rods of the 40's and 50's, the Prowler has smaller projector beam headlamps under plastic covers cleverly integrated into the body behind the grille. The rear of the Prowler appears extremely wide and high, accented by wide rear tires and separate fenders, and twin exhaust pipes with chrome tips.
A common criticism of the Prowler's styling are the large, protruding front bumpers. They're necessary to meet 5 mph bumper standards and crash standards. Personally, I don't find them offensive. The designers did a good job of making them look as inconspicuous as possible.
Well-Equipped Interior But Tiny Trunk
Inside the car, most of the instruments are positioned in the centre of the dashboard, including a large speedometer flanked by oil pressure, voltmeter, fuel and coolant gauges. The tachometer is positioned on the steering column just behind the steering wheel – just like they used to be on souped-up rods of yesteryear.
The rest of the interior is contemporary in design and very well-equipped. Standard equipment includes leather seats, air conditioning, AM/FM/cassette and a 6-disc CD changer with seven speakers, remote keyless entry, cruise control and power door locks. For safety, the Prowler has three-point seatbelts and dual airbags – the passenger side airbag has a key-operated cutoff switch. However, the Prowler doesn't have a rollover bar or roll hoops.
The black convertible top is manually-operated, and folds down into a cavity behind the seats under a plastic boot cover. It's easy to do, but you have to get out of the car to raise and lower the top.As far as storage space, the Prowler is probably the most impractical vehicle I've ever tested. Interior storage room is limited to a small, centre storage bin and a seatback map pocket, but there's no glove box or door pockets. The Prowler has the smallest, shallowest trunk I've ever seen – a measly 1.8 cubic feet – not even enough room for an overnight bag.
Perhaps that's why Chrysler recently unveiled a modified version of the Prowler called the 'Howler' at the SEMA (Specialty Equipment Marketing Association) trade show in Las Vegas. The Howler is a Prowler with a taller, longer tail and a usable trunk.
Another option is a special Prowler trailer which looks exactly like the Prowler from the rear.
Retro-look But High-tech Construction
Though it looks like it belongs in the 50's, the Prowler is built using sophisticated 90's technology. Extensive use of lightweight, rust-free aluminum includes a bonded and riveted aluminum frame, aluminum suspension components, aluminum engine, and some aluminum body panels (hood, doors, deck lid, and front side panels). The remaining body panels are a composite plastic material. A structural cross-member behind the instrument panel is made of magnesium.
Unlike early hot-rods which had solid front and rear axles, the Prowler has a fully independent suspension, including front double 'A' arm suspension with inboard-mounted spring and shock assembly, and rear an independent four-link setup. Four vented disc brakes with ABS are standard equipment.
The standard power plant is the 3.5 litre SOHC 24 valve V6 engine that also powers the Chrysler LHS and 300M models. This all-aluminum engine develops 253 horsepower at 6,400 rpm (39 more than the previous 3.5 litre engine) and 255 foot pounds of torque at 3,950 rpm.
The Prowler is not available with a manual transmission, but it does offer Chrysler's four-speed automatic 'AutoStick' transmission which allows both automatic or sequential manual shifting. To shift manually, the driver places the floor-mounted stick shift in the last gate, and pushes the lever right to change up and left to change down. If the driver fails to shift before the engine redline, the AutoStick transmission will shift automatically. To improve vehicle weight distribution, the AutoStick transaxle is mounted at the rear of the car.
A Whole Lotta Shakin' Goin' On
Though the Prowler looks like a cross between a hot-rod and a race-car, it's not a handling machine. The Prowler's wide track and super-wide, sticky tires provide excellent grip on smooth surfaces, but its unforgiving suspension and considerable body flex upset its balance when any small bump is encountered. In fact, the whole body shakes alarmingly when traveling over larger bumps, and from the driver's seat, is rather disconcerting.
In true hot-rod tradition, the Prowler's straight-line acceleration is very quick, in part because the Prowler weighs just 1287 kg (2838 lb). However, the transmission, in automatic mode, 'bumps' when it changes gears – I don't know why because this same transmission is very smooth on other Chrysler vehicles. In manual mode, the AutoStick transmission allows manual shifting, but there's a slight delay in the actuation.
Braking is excellent, as you would expect in a lightweight vehicle with four wheel disc brakes, and the power-assisted steering has good feel and responsiveness.
Wind buffeting with the top down is minimal due to a well-raked windshield and fairly high door sides. With the top up, visibility to the rear is impaired, but the top is well-sealed against the elements. In any event, the Prowler is more of a summer car – I don't even know if you could get 20 inch snow tires…
MSRP of $61,000
The Manufacturer's Suggested Retail Price for the 2000 Prowler is $61,000, up from $55,000 in 1999. Plus, there's a $1400 delivery charge. In some areas, you might find dealers asking more than that because the Prowler is a limited production specialty car in high demand. In calendar year 1998, only 146 Prowlers were sold in Canada, and in 1999, 88 have been sold to date. Worldwide production output for the 1999 model year was only about 5000 units.
Still, with its high resale value, the Prowler might be a good investment, and one with which you can have a lot of fun. 
Technical Data: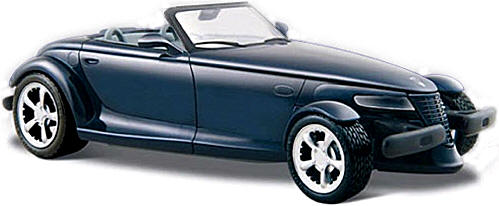 2000 Plymouth Prowler

Base price

$61,000 CD

Freight

$1,400

Type

2 passenger, 2-door convertible

Layout

longitudinal front engine/rear-wheel-drive

Engine

3.5 litre V6, SOHC, 24 valve

Horsepower

253 @ 6400 rpm

Torque

255 @ 3950 rpm

Transmission

4-speed automatic 'AutoStick'

Tires

Front P225/45HR-17; Rear P295/40HR-20

Curb weight

1287 kg (2838 lb.)

Wheelbase

2877 mm (113.3 in.)

Length

4199 mm (165.3 in.)

Width

1943 mm (76.5 in.)

Height

1292 mm (50.9 in.)

Trunk capacity

51 litres (1.8 cu. ft.)

Fuel consumption

City: 13.8 l/100 km (20 mpg)

Hwy: 9.4 l/100 km (30 mpg)

Warranty

3 yrs/60,000 kms

GOOD STUFF

The ultimate lookatme production car
Can be fun to drive
Good fit and finish done by hand
Aerospace aluminum frame and composite body parts
Decent set of amenities, including sound system
Run-flat tires
Prowler orange is best color yet
Autostick automatic transmission
Everyone loves it — from the outside

  


Cars are rated one (forget it) to four ('bout as good as it gets) James Deans 

 

BAD STUFFBrutal, bone-shaking, eyeball-gelling, rough ride
Interior is mish-mash of retro and modern
Difficult entry and exit
Severely compromised visibility
No anti-lock brakes and long stopping distance
No spare tires(s)
Tiny footwell with no left foot rest
Manual top drop with difficult front latches
Hair-ripping wind buffeting above 50 miles an hour
Ultimate "lost in space" vehicle
Wheels look out of place
No V-8 option
No manual transmission option
So low the nose strikes everything and scuffs up

Engine: 3.5-liter V-6
Transmission: four-speed automatic
Drive train: rear-wheel-drive
Horsepower: 253 hp @ 6,400 rpm
Torque: 255 ft-lbs. @ 3,950 rpm
EPA mileage: 17 city/23 highway
Weight: 2,838 lb.
Base price: $45,000

Price as tested: $45,000

 

First, the bottom line




"No matter what his mood or feeling, his trouble or his joy, it made everything right and good to be guiding his car … In some ways these daily sessions on the road were his hours of meditation, of true self expression, the balm for his soul and the boast of his spirit."
– Henry Gregor Felsen, author of "Hot Rod" and "Street Rod"




In the '50s, Henry Gregor Felsen spoke to young teens with a succession of novels about hot rods and street rods. What middle-age man today cannot relate to those words above describing the freedom and status a unique car — a hot rod or street rod — bestowed upon its owner?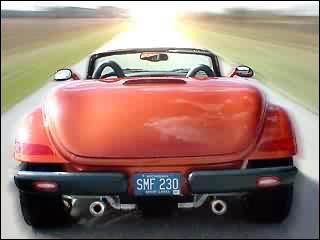 Fast forward 50 years and the appeal of the hot-rod inspired Prowler remains much the same.
Today, for its owner, it is "the balm of his soul and the boast of his spirit."
Nothing else in production anywhere in the world looks like this. The Prowler is, like street rods and hot rods of a half-century ago, unique. And low production numbers assure its continued rarity.
But in Felsen's novels, it is the drivers who are flawed, young teens who lack respect for a highway's dangers, invincible youths flaunting physics in their hot rods right up to the point … where they die in their cars. Almost always, in Felsen books, they die in their cars.
"Those young drivers have learned to drive. They can operate a car all right, and make it go as fast as anyone else, but they haven't learned the one most important factor in driving — the proper attitude."
With the Prowler, the average buyer is a mature male (95 percent of Prowler buyers are male) who earns more than $150,000 a year. This buyer respects cars, understands danger, firmly grasps the finality of death. Today, it will be the car that lets down the driver.
The Prowler — fun as it is — is seriously flawed.
For anything more than warm, fair weather cruising around town, it is unsuitable. In the extreme.
Thrown together with no interior design integrity, the Prowler ultimately lets down on its promise of being an up-to-date retro rod. Out-of-place bins parts in the interior ruin the retro look. And up-to-date it isn't. Shamefully, it is absent even anti-lock brakes. It offers the mature hot rodder no stick-shift and no V-8. He cannot even chirp the rear tires! It's no rod of old. It's just … show time!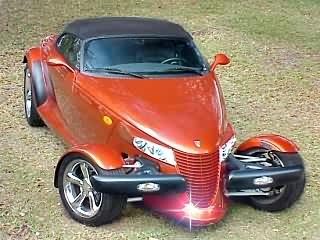 But, standing near one, it is quite a show. This thing is drop-dead gorgeous. It screams look at me! And it's a chick magnet for that mature male behind the wheel.
Prepare to talk about the Prowler every time you stop — even at a stoplight. After a few days, however, this becomes wearisome. Enthusiasm first must always be for the car, not the conversation the car sparks.
The Prowler sees to it that your enthusiasm for it will dampen.
From difficult entry, to pounding ride, to difficult exit and everywhere in between, the Prowler will make a would-be buyer question whether this is really a $45,000 purchase that should be made.
In the end, if you're honest about this, if you live life with your head and not your heart, you realize it's a toy. It's impractical beyond words. It's a car, as one writer put it, where passengers ride with you once, and only once.
Still, flaws and all, I want one. I loved the Prowler on those warm nights in the city, cruising the neon-colored streets, the music of another era weaving its feel-good message from a first-rate stereo system, wind tousling my hair, exchanging smiles with fellow motorists at stoplights, being looked at … as an object of envy.
I tell you, it's a great feeling. A balm for the soul and a boost for the spirit.
Sadly, I know what the onlookers don't. Do I spoil the party? Do I tell 'em?
I'll tell you.
 Safety
"The crushed pile of twisted metal that had once been My-Son-Ralph's Chevy was on its back in the ditch, its wheels up like paws of a dead dog. Two of the wheels were smashed, and two were turning slowly. Something that looked like a limp, ripped-open bag of laundry hung halfway out of a rear window. That was Marge.
"The motor of Ralph's car had been driven back through the frame of the car, and its weight had made a fatal spear of the steering column. Somewhere in the mashed tangle of metal, wood and torn upholstery was Ralph. And deeper yet in the pile of mangled steel, wedged in between jagged sheet steel on one side, and red hot metal on the other, was what had been the shapely black head and dainty face of LaVerne.
"Walt's car had spun around after being hit, and had rolled over and along the highway. It had left a trail of shattered glass, metal, and dark, motionless shapes that had been broken open like paper bags before they rolled to a stop. These had been Walt's laughing passengers. Pinned inside his wrecked car, beyond knowing that battery acid ran in his eyes, lay Walt Thomas. Somehow the lower half of his body had been twisted completely around, and hung by a shred of skin."
After a careful analysis of this Felsen-described accident, it has been determined that anti-lock brakes could have been the difference between multiple fatalities and just-missed-it.
The Prowler, a 2001 model, doesn't have anti-lock brakes.
I learned that fact quite by surprise. An auto writer today assumes all pricey vehicles have ABS. It should be required, even on strippers.
First off, let me tell you that the Prowler frightens as speed increases. The shaking that is constant at low speeds and idle becomes pronounced at anything above about 50 miles an hour. Both hands must tightly, and I mean white-knuckle tightly, grip the fat steering wheel unless you're on a marble road. So, venturing to 60 miles an hour and feeling the Prowler dance all over the empty back road, I jammed down hard on the brake pedal.  Oooops.
Instantly, all four wheels locked up and blue clouds of rubber-burning smoke from the front tires obscured my view and filled the Prowler, which had begun to turn sideways and drift into the oncoming lane.
I gently released the brake pedal and corrected the direction of travel.
I slowed and checked to be sure all bodily functions were still under my control.
No anti-lock brakes! On a performance roadster? In the year 2001? Are you kidding?
Not kidding. This is almost criminal (and I am not alone in criticizing Chrysler for omitting ABS — it's almost a universal criticism of this car). Get anti-locks on this thing mid-year, Chrysler. Right now. Even careful modulation of the brake pedal produced longish stops, much, much longer than a Corvette or Boxster or Audi TT. The Prowler will be dead last where safety is an important consideration.
The little headrests behind the two seats contain roll bars, but they don't seem high enough. I'm average height and the top of my head was right at the top of the roll bar. In a rollover, I'm almost certain my head would be striking pavement or ground or any object. Fatally so, probably.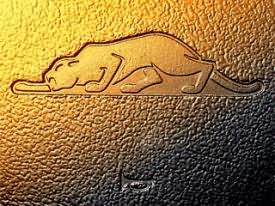 There are dual air bags up front, but no side bags. The passenger bag can be disabled. (Note: The test Prowler did not contain an owner's manual — few testers do — and it took me many days to find the location of the switch to disable this bag. It's in the passenger front door jam. Just one more ergonomic flaw with this interior. More later.)
The only safety features on a Prowler, in fact, are those that are required. Three-point belt restraints that come from an LH sedan and the dual air bags.
A state-of-the-art roadster should go far beyond requirements. No crash tests have been conducted on the rare Prowler, so we'll have to wait-and-see how the all aluminum frame and body fares. Just know this: Repairs will be through-the-roof expensive.
The front bumpers look like an afterthought. Hot rods and street rods, you remember, had Nerf bars, little chromed ovals, if they had bumpers at all. The front wheels were usually exposed. Clearly, that would have served the retro look better than these black plastic-covered protrusions. But federal safety standards demanded these awkward looking front bumpers. So there they are, out of place like the wheels.
"In the hushed confusion of the mass burial it seemed to Bud that Marge's coffin got lost in the shuffle. The strange thought came to him that the others were being buried on purpose, and that Marge, who would do anything to be taken along with the crowd, was just following along to be one of them."



  Handling
The Prowler is a test bed for DaimlerChrysler. The all-aluminum frame and body result in a strong but lightweight chassis. Up front is what amounts to a race car suspension; much the same in the rear.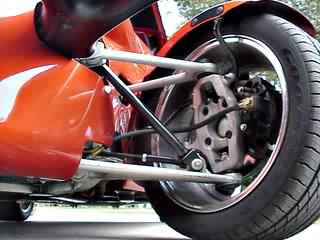 And this setup provides all the creature comfort of a Formula One racer.
It is brutally rough on those inside.
On smooth roads, the Prowler simply shakes. That's fine. Powerful cars often shake, even at idle. That's cool. But let the road become irregular and the Prowler falls to pieces. This shaking signals tires not in constant contact with road surface — and handling is adversely affected.
Ever skip a stone across the glassy surface of a lake? Traveled straight and true until it lost momentum. Ever try it on a choppy lake surface? Didn't work, did it? The Prowler handles like that rock. It is at the mercy of the surface condition. Pray that the road you're traveling has no ripples.
Now, if you consult skid-pad and slalom results, you will be pleasantly surprised. The Prowler, in fact, out-handled a Corvette in these tests and on a race track, according to Edmunds testers. You can thank a suspension even harsher than that in a Vette for these facts.
Our roads aren't carefully groomed race tracks, however.
And the smooth skid-pad isn't representative of a highway curve with a bump somewhere in your lane.
Believe me, you can lose a Prowler in an instant.
Crossing railroad tracks, it has all the rigidity of Reynolds Wrap. Hit a pothole and the Prowler whacks your bottom like Willie Stargel used to attack a low-and-inside fast ball. An outta-here spinal smash. Passengers, particularly, will be less than thrilled. The blonde so eager to ride with you on the lunch hour now wants to return to the office — right now.
And the brakes, as noted, do not have ABS to assist them.
Prowlers also lack traction control or any kind of stability control.
Thus, a driver gets no help in handling a Prowler — not while accelerating or turning or braking. Listen, that we can live with. What we can't live with is a car that fights a driver. This one does. It's not Man and Machine here, it's Man versus Machine.
I hope that is no one's idea of fun.
The very best thing Chrysler could do for the Prowler is soften the suspension system. A lot. Come on, Chrysler, this is a cruiser, not a racer. In the real world, our roads are a potholed mess, our interstates a succession of oozing tar strips separating sagging concrete segments. Help us drive on them. Not for comfort reasons alone. Your Prowler now is an orange squirrel, not at all like the sure-footed cat on your logo.
  Performance
The Prowler made its debut as a Chrysler concept car in a 1993 auto show. Response to it was overwhelmingly positive. Mercy, who doesn't like the way it looks? Everywhere I went, everyone loved the styling.
Buoyed by the response, Chrysler set out to put a similar model into production. In 1997, the first Prowlers hit showrooms. But they were few and far between, and first year production of less than 300 saw only 120 sold in the U.S. By any standard, the first-year Prowler was not a success. It was underpowered and buckboard-rough.
So Chrysler took a year off to return to the drawing boards. There was no 1998 Prowler.
In 1999, the Plymouth Prowler returned and 1,594 were sold.
Now, the target is about 3,000 Prowlers a year. And, with Plymouth officially deceased, the Prowler badging is now Chrysler (but the window price sticker said Plymouth).
In its brief evolution, the Prowler has not only changed brands, but has improved somewhat. There's more horsepower now, and the suspension is a tad friendlier to homo sapiens than in 1997. Chrysler added a passenger air bag cutoff switch. And there are more amenities — some which fit the retro scheme and some that shout "I came from an LHS parts bin."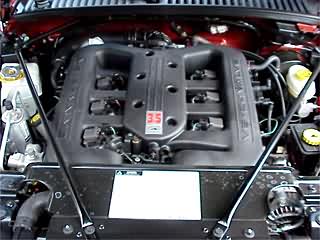 Having only to push a frame and body of aluminum and various composites, the 3.5-liter V-6 engine with 253 horsepower does a more than adequate job of launching the 2,838-pound Prowler. Zero to 60 is about 6 seconds flat, Chrysler says. But with 20-inch rear wheels sporting P295/40R Goodyear Eagle tires, the Prowler proved impossible to send up in smoke.
Not even a Tweety Bird cheep came from those monster tires under full-bore launches.
Hey, at least be thankful it's rear-wheel-drive.
The automatic transmission is located in the rear, behind the rear axle, with its own cooler unit. It features an "autoshift" function. Move the lever to the rearmost position and shifts can be done manually — upshift by nudging the lever right, downshift by nudging left.
Kept in auto mode, the transmission downshifts a bit too abruptly. And it may drop two gears when a driver would prefer only one.
Use the autostick, however, and fuel efficiency goes into a dive.
The exhaust comes off the engine in dual fashion, then travels through a single muffler system and splits again to exit under the rear bumper as attractive twins. It's been tuned for a specific sound and burbles when you back off the accelerator.
A word of warning on the computer test results of performance below. They may be generous. No program yet knows how to factor in big rear tires and smaller front tires, the aerodynamics of this needle-nose car, etc. But these results will be close. Real-world 0-to-60 test times have all been around 6 seconds flat and quarter-miles are under 15.
A Prowler has all the performance any street vehicle needs.
The figures that follow are from computer testing the 2001 Chrysler Prowler.
Prowler Performance Data
Acceleration (mph)
0-30
0-40
0-50
0-60
0-70
0-80
0-90
0-100
Elapsed time (sec)
2.1
3.0
3.9
5.8
7.4
9.1
11.3
14.6
Top speed potential
 146 mph
Quarter mile
 14.2 @ 98.9 mph
  Comfort
Upfront: Comfort as it is usually defined with automobiles may not be an important consideration for many buyers of sports car, particularly a car as unique as the Prowler. But comfort incorporates considerations of convenience, utility and ergonomics — and these are important no matter the style of a vehicle.
Failures in this area can provide little irritations for years.
Where to begin with the failures — and pleasures of the Prowler?
Let's begin by approaching the Prowler, as a driver. First, it's got the wrong exterior door handle design. Big deal? Not at all, but a failure not found on the extremely well thought out PT Cruiser retro model from Chrysler. These Prowler door handles are strictly parts bin. And that underscores this hard fact: The PT Cruiser is a much better done vehicle. Much.
Grab the nail-breaker handle and pull up. The door opens. Not very wide. Push on it. Sorry, that's it. It doesn't open wide at all. Large people may have difficulty getting into either seat in a Prowler. Fair warning.
Now look where you'll be stepping. The door sill is high, with about an eight-inch drop to the floorboard. The seat is almost on that floorboard. It's a heady drop down. With the top up, it's like crawling into a tiny tunnel. But, for the moment, let's enter a top-down Prowler (the only way to use a Prowler).
You'll step in, grab the steering wheel for balance, and then swing and slide down into the seat. It's more difficult even than the notoriously difficult entry into older Corvettes. Settle in. The seat feels good (but lumbar support is insufficient for extended travel — which no Prowler owner is likely to do anyhow).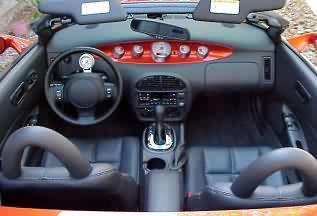 The steering wheel is fat and feels pretty good. Above the center of the steering wheel, on the steering column, is a tachometer, its wiring exposed on purpose, furthering the retro look. Nice touch. The instruments are lined up horizontally across much of the dash. In the center of the instruments is the speedometer. On the far left, completely hidden to the driver's view by the steering wheel, is a voltmeter. (To see a scrolling panorama of the dash in a new window, click the photo here.)
It's a terrible layout.
Just a little bit of thought could have yielded a more visible display. Instead of facing all of the gauges straight out, for instance, why not cant them toward the driver. They are inset, so create the insets at an angle toward the driver's head. As it is now, the legal speeds on the 150-mph speedometer are partially obscured, since the speedometer is deeply inset into the dash and the driver is viewing it from the left.
But, praise be, at least the instruments have a kind of retro feel, lined up that way.
Not so the remainder of the interior.
The gear selector is a year 2001 parts bin item. Remember the cue ball shifter in the PT Cruiser (and Lexus IS300)? How perfect that would have been in the Prowler. Too bad. You get an LH sedan shifter — just 'cause.
Worse is the radio. No effort at all to look retro. It's your standard Chrysler setup, with too many buttons and a lousy joystick for fade-balance control. Awful in any car. Terribly out of the place in a Prowler. A pimple on a pretty face.
Likewise looking ludicrous is the rear-view mirror. It's an electrochromatic model that dims as bright lights approach. Nice, but not exactly "period". No. It would have been better to use a little oval rear view, with a flip bar at the base for night/day setting. This one is .. 2001 parts bin.
Neat touch? Look at the cat logo on the steering wheel and seat backs. Neato.
Settle back into the seat now. Crank 'er up. Let's get ready to ride.
Turn around to check behind you before backing up. Oops. That high deck and third brake light really block the view, eh?
Look ahead. All you will see is the end of the dash. You will not see the end of the pointed-snout hood, or the neato exposed wheels with their motorcycle fenders. You are completely lost in space. And it's worse here than any other Chrysler product yet tested. Why? This one makes you pay for that lost in space fact!
Guarantee: Within a week, the nose of the Prowler will be a scarred mess. You will have struck driveways, bumper curbs, street rises, speed bumps and anything larger than a Rubik's Cube lying in the road. Ground clearance is only 4.5 inches. Looks great — for about one hour.
To visualize just how difficult it is to drive a Prowler, consider this: I lined the front wheels and axles of a Prowler and Ford Explorer side by side. Viewed that way, the driver's location in the Prowler is equivalent to sitting in the back seat, on the floor, and driving the Explorer that way.
Couple that with a large turning diameter and you may understand how I knocked over the neighbor's garbage can set out by the curb. Misjudged it. Couldn't see it from the driver's seat once I got close to it.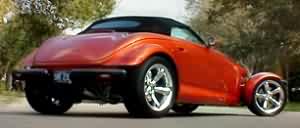 Now, every problem is magnified with the top up. Visibility is obstructed in every direction. Huge blind spots exist both to the left and right rear. It's decidedly claustrophobic in a Prowler, and this combines to assure the Prowler will be used solely as a fair-weather toy.
Raising and lowering the top is a manual operation in which Chrysler seemingly copied every aspect of the Chevrolet Corvette, right down the yellow color of a button depressed to pop the trunk open. The Corvette top-drop operation is one of the worst. The Prowler adds a few problems of its own.
There are two latches below the windshield to release first. They're almost dainty in their operation, completely out-of-place in this car. And they are virtually impossible to secure at night, in the darkened interior. Nothing lines up, for one thing, then the latches require several deft movements before they can be closed. But…
After releasing them, find a hidden yellow button behind the driver's seat and press it. The trunk lid springs partly open. Pull the trunk lid up; it rises from front-to-rear. Note: There is not much cargo space in the trunk. One writer said a toothbrush might fit back there. It's not that bad, but not suitable for hard luggage or large boxes. It could hold a soft overnight bag or briefcase, even with the top stored inside. (Want to carry more? Chrysler will sell you a cute little custom trailer for $5,000 to tow behind your Prowler.)
Drop the top into the trunk and close the lid. Done.
From the driver's seat, the window sills are way up there and the windshield top is way down there. Opposite optimum. The extremely high window sill prevents comfortably resting a left arm on it. And the top of the windshield will effectively block the view of a stoplight if you're first in line. You have to duck and bob to see the light.
 It's worse for your passenger. That seat is lower. Even taller-than-average people will find their eyeballs are level with the door sill. Children can't see a thing except dash and door (a major disappointment, I might add). An air bag cutoff switch, clearly an afterthought, is located in the passenger door jam.
Fire it up. Nice exhaust note — for a V6. Not too loud. Not too muffled. Pretty nice.
Get in motion — careful, careful. Turn on the stereo. Hey, pretty nice sound (but radio signal pickup is very poor).
Notice that the car shakes. Hmmm. Hit a bump and this baby will get your attention. Now we may have found a practical reason not to rest a left arm on the window sill. The Prowler almost jerks the steering wheel out of your hand when any road irregularity is encountered. It jumps. It bounces. It wiggles. It shaaaaakes.
Then there are the two sunvisors. If flipped down, they obscure almost any forward view. So they must stay up. But there's the wind factor…
If the visors are positioned horizontally, level front to back, then the wind flowing over that low windshield does not massage your hair as much as it tries to rip it out. So flip the visors all the way forward. Now the wind becomes manageable. Up to about 50 miles an hour. At 50, the visors yield to the force of the wind and flip themselves horizontal.
Whoa, Nellie. There went your cap, sailing away. Your sunglasses are torn from your face, dangling from one ear. Wind blasts down your shirt, whips up the skirt of a female passenger, embeds sand and grit in your eyes.
"I am not having fun," one female friend said in sarcastic understatement as wind molested her hair and clothes.
The angled style of the car creates some interior problems. The driver's footwell, for instance, is small, and there is no dead pedal, no left-foot rest. Spend any amount of time behind the wheel, and the left foot becomes a problem.
The thin door is extremely close to the left side of the steering wheel. Drive with a cigarette in your left hand and you'll likely burn the door panel.
The three-spoke wheel means a hand cannot be rested at the bottom — but, hey, this car shakes so badly that it always requires two firm hands on the wheel.
So why, with all these flaws, would anyone want a Prowler?
There were many moments of pure delight during the test week. This unique roadster is the antithesis of today's invisible car or minivan or sport ute. Personally, I enjoy a car that expresses at least a part of my personality. This one does. I do not want to be invisible, in person or in a vehicle. This one guarantees that will not be the case when I'm behind the wheel.
Around town, at slow city speeds, the Prowler is a joy. At night, a driver enjoys aural and tactile stimulation, taking in the sound of the exhaust, the feel of manageable wind on the face, the smells of steaks grilling inside restaurants.
And, to a point, the attention is attractive. During the test week, it was thumbs-up across-the-board. Motorcyclists loved it. Old men with canes looked at it with envy. Teenage neighbor boys had their moms photograph them inside the test Prowler. My favorite six-year-old loved being picked up at the bus stop by this object of desire, while her classmates ran and leaped about at the joy of it all.
That will never happen with 99.99 percent of all vehicles sold.
And, for most new vehicles sold today, a buyer faces instant and serious depreciation. Years from now, the used vehicle will be worth little or nothing. But a Prowler…
This may be the only vehicle sold in the year 2001 that becomes a future collectible. Almost guaranteed.

Parting Shots
Chrysler, now properly DaimlerChrysler if the union holds until I get this review up, deserves a huge attaboy from consumers.
It took risks. It departed from safe melted-soap vehicles to give us the Dodge Viper, PT Cruiser, and Plymouth Prowler.
All are unique. One, the PT Cruiser, is a runaway success.
The Viper was born with one mission: Beat the Corvette. Be America's biggest, baddest sports car. It succeeded. But cost was another matter. Convenience was a store you passed. The Viper was, and is, a rich man's speed toy.
Not so the PT Cruiser. Focused attention to detail produced a vehicle so good that demand far exceeds supply. The Cruiser instantly became everyone's Car of the Year. Deservedly so. It's well thought-out and the execution is excellent at its price point.
But that can't be said of a Prowler.
Like the Viper, it's a toy. Like the Viper, it's impractical in the extreme. Unlike the Cruiser, it is not faithful to its retro roots. It is a styling exercise, a lab experiment with its chassis. With the Prowler, form rules. Function takes a non-existent back rumble seat.
Despite it all, I found the Prowler appealing. So much so that I began to anticipate the next time I'd take it out. I soon learned not to go east, onto rough country roads. Stay off the interstate. Head .. downtown.
Smile and answer questions from fellow motorists at stop lights. Watch the patrons of the opera house follow with their heads as you pass. Catch the reaction of young children. Enjoy the "nice car, man" comments from teens and young adults.
It's a heady feeling, not easily attainable in a vehicle.
The Prowler could never be anyone's main vehicle. Never. Too many factors work against the practicality demanded of primary transportation.
But if there's a space in the garage, if there's an itch to recall a missed era of hot rodding, if there's more than $45,000 disposable cash in your bank account, then you might want this.
Flaws and all, I would.
For a week, it was the balm of my soul and the boost of my spirit.
'Nuff said.
Home, James
© 2001, Robert C. Bowden
Plymouth on the Prowl
Can Chrysler's new hot rod boost the brand?
| | | | |
| --- | --- | --- | --- |
| by Paul A. Eisenstein | | | (1998-01-01) |

Plymouth on the prowl
LOS ANGELES – Plymouth is on the prowl. But can the world's first "factory-built" hot rod breathe new life into a brand Chrysler Corp. was ready to abandon just a few years ago?
It's hard to miss the Prowler, even in a car-jaded city like LA. Take a touch of Ford's '32 Deuce Coupe. Add a few features of the classic coffin-nosed Cord. Then spin it around inside Chrysler's styling studios, known for some of the auto industry's most innovative designs. And you come up with a car that looks like a set piece from the film "American Graffiti."
Yet underneath the skin, the Plymouth Prowler is what one Chrysler engineer calls a "rolling test bed," designed to test a variety of new concepts – including the use of aluminum and other lightweight, fuel-efficient alternatives to steel.
Unconventional concept
The Prowler made its debut as a concept car at the 1993 Detroit auto show. There was no way to confuse it with a conventional Detroit coupe. The two-seater was modeled after some of the great classic hot rods, such as the legendary Deuce Coupe. Its broad rear tapers to a narrow nose, and the front wheels are set more than a foot outside the car's body.
The Prowler proved so popular that Chrysler executives decided to put the car into production as a low-volume showpiece, an image car in the mold of the Dodge Viper, a muscular sports car that also made its debut in concept-car form. The Viper has helped transform the once-stodgy image of Chrysler's Dodge Division, creating an aura of hipness and performance. And that's precisely what the Prowler is supposed to do for Plymouth.
It was only a couple of years ago, notes Chrysler's marketing chief, John MacDonald, that "people were saying that Plymouth was going out of business." And indeed, there were a number of Chrysler executives who thought it was time to trash the sickly division. "But this should put an end to that."
The Prowler is the first product Chrysler has produced exclusively for Plymouth since the 1969 Barracuda. And it's clearly unlike anything else in the lineup of conservative sedans, coupes and minivans. But MacDonald sees the aubergine-hued Prowler as a neon sign blaring "Watch this space." And those who follow the company agree.
"It's a masterstroke," declares George Peterson, an analyst with the AutoPacific Group. "Buying the amount of publicity they're generating with this car would have cost them many times more" than the estimated $100 million invested in the project.
Today, says Peterson, there's nothing in the Plymouth lineup like Prowler, but among the vehicles under development are versions of several other hip, youthful concept cars. These include the Pronto micro-minivan and the Backpack, a hybrid blending the best features of a passenger car with the go-anywhere versatility of a sport-utility vehicle.
Who will buy?
Who will buy the Prowler? "We're not sure," admits MacDonald. "I don't think you'll see real hot-rodders," he says. They're getting their hands dirty building their own one-of-a-kind rods. But the Prowler will draw plenty of hot-rod wannabes, suggests Gary Medders, who runs the Good Guys, a California company that stages more than a score of hot-rod rallies around the country each year.
Chrysler and its dealers have been receiving tens of thousands of inquiries, and observers believe there should be no problem selling out the first year or two of production.
Chrysler expects to assemble about 2,000 Prowlers this year. In 1998, it will boost capacity to around 5,000.
The long-awaited Prowler finally went into production in May, several months late. The platform team found itself struggling to solve some nagging issues including an unpleasant shake in the front suspension. That's not surprising, considering the car's unusual design. The outset front suspension is normally found in race cars running on glass-smooth tracks, not on a production car.
Rolling test bed
But from the ground up, "we're using this as a rolling test bed for new technology," says platform chief Craig Love.
One of the biggest challenges for the Prowler team was the decision to build the car's chassis and most of its body out of aluminum. The lightweight metal could allow automakers to improve fuel economy sharply – if they can resolve production problems and cost issues.
"While beauty is only skin deep, we were very interested in how the body would be made," says engineer Saad Abouzahr. The team came up with some novel solutions, he notes. For example, body parts are held together with adhesives rather than welds.
There were other challenges. The skinny little bumpers are more than cosmetic. They're designed to withstand 5-mile-an-hour impacts without damage. And since there's no place for a spare tire – there's barely room for a briefcase in what passes for a trunk – Chrysler engineers worked with Goodyear to develop a customized "run flat" tire which can keep going for up to 50 miles, even after a catastrophic blowout.
But while the Prowler breaks plenty of new ground, it also borrows a number of pieces from Chrysler's stock shelf. The steering wheel, for one, was borrowed from the Jeep Grand Cherokee. And the inside door handles are lifted from the Viper. The car's V6 comes from the Chrysler Concorde sedan. That strategy helped slash the Prowler's development costs – and the final price tag.
At $39,000, the Prowler includes a long list of standard features, such as dual airbags, air conditioning, power windows and door locks, a 320-watt Infinity stereo system with compact disc player and a fully retractable convertible top.
"Prowler's a winner," says Peterson. "It'd be pretty hard to screw this one up."
1997-2002 Plymouth Prowler: Highlights
Styled like a roadster of the 1930s, but redone in the mode of the '50s, the Prowler looked like no other modern car on the road. Motorcycle-type front fenders, for instance, moved along with the front wheels. Like the Viper before it, Prowler had been a show car–but one later made ready for the street. Appearances aside, the Prowler's technology was strictly up-to-date. About 900 pounds of aluminum were used–in the hood, front side panels, doors, rear deck, frame, bumpers, front-suspension wishbones, and seat frames. Plastic was used for rear body panels, rocker panels, and front fenders. Borrowed from Chrysler's LH sedans, the 3.5-liter V6 engine produced 214 horsepower. Rear-wheel drive helped impart a more traditional hot rod feel. Prowler's sole transmission was a rear-mounted automatic unit with Chrysler's Autostick manual-shift feature, which permitted manual gear selection when desired. Antilock brakes and traction control were not available, though brakes were all-disc. Front tires were 225/45VR17 size, while the back end held massive 295/40VR20 rubber. Both tires had run-flat capability–essential because there was no room for a spare tire. The retro theme continued into the interior, which featured a full complement of gauges at the center of the dashboard, in an elliptical pod. That pod matched the body color–which was purple-only in the Prowler's first season. A tachometer was mounted atop the steering column, simulating the look of aftermarket speed equipment. Standard equipment included air conditioning, a tilt steering wheel, cruise control, 6-disc CD changer, and a defroster for the convertible top's glass rear window. Power windows, locks, and mirrors also were standard.
Year-to-Year Changes
1998 Plymouth Prowler: No '98 models were issued, but Prowler would be back for 1999.1999 Plymouth Prowler: Reintroduced in spring of 1998 as a '99 model, Prowler had a new V6 engine that produced 253 horsepower–39 more than in 1997. That engine came from the Chrysler 300M and LHS. As before, the sole transmission was a rear-mounted automatic unit with Chrysler's Autostick manual-shift feature. Antilock brakes and traction control remained unavailable. In addition to the original purple body color, the revived Prowler came in yellow, black, or red. Chrome wheels were newly optional, too.
2000 Plymouth Prowler: Suspension revisions were the major changes this year, along with new body colors. Springs were softened and shock absorbers recalibrated, in an attempt to improve ride and handling. Silver joined the body-color list, replacing yellow and purple. A new chrome bezel and leather boot went on the gearshift, and an automatic-dimming mirror contained an integral compass and trip computer.
2001 Plymouth Prowler: Adjustable shock absorbers and new colors are the only changes for this limited production model. Production ceased at the end of the year.
2002 Plymouth Prowler: Inca Gold replaced Mulholland Blue midyear as an option to orange or silver. The last Prowler was put together on February 15, 2002.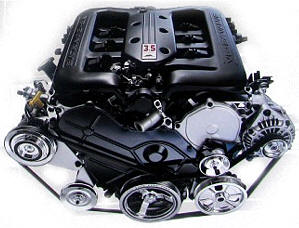 1997-2002 Plymouth Prowler
Pros
Acceleration
Steering/handling
Cons
Cargo room
Visibility
Entry/exit
Antilock brakes not available
1997-2002 Plymouth Prowler Trouble Spots
Air conditioner
: A growling noise from the A/C is probably due to the A/C line rubbing on the air-filter housing. A revised line must be installed. (1997-99)
Dashboard lights
: The low-tire-pressure warning may blink intermittently. If the pressure is not actually low, the pressure
sensor(s) will be replaced. (1997-99)
Dashboard lights
: Low tire-pressure warning light might indicate a faulty sensor/transmitter. (1997-99)
Fuel gauge
: If fuel tank does not fill completely or is slow to fill, and updated filler neck and hose are available. (1997-01)
Fuel pump
: When refueling, the pump nozzle may keep clicking off and/or the tank may stop accepting fuel when it is only half-full due to a problem with the filler neck. A revised neck is available. (1997-99)
Hard starting
: Reprogramming the power train control module could aid cold start idle quality. (1997)
Oil leak
: In colder weather, oil may be forced out of the differential case vent. (1997-00)
Vehicle noise
: A fluttering or vibrating noise from the center dash vents means the HVAC mode door needs to be recalibrated which is done by removing the battery cable, turning the blower switch to high, and reconnecting the battery cable. (1999-2000)
NHTSA Recall History
1997: Some welds that affect vehicle control and crashworthiness may have been omitted in six areas of the frame; loss of control can occur.
1997-02: Some vehicles may have defective lower control arm ball joints, resulting in possible loss of steering control. Dealer will inspect and replace affected parts.
1999: Brake-indicator-lamp circuit does not contain the required ground circuit to illuminate the lamp in the event of a brake system hydraulic malfunction.
1999: Some aluminum castings used in manufacture of frame may have missed the required heat treatment; some of these frames could fracture under vehicle operating conditions.
2000-01: Some of the owner's manuals for these vehicles are missing instructions for properly attaching a child restraint system's tether strap to the tether anchorage.
Vehicle Dimensions

| | |
| --- | --- |
| Specification | 2-door convertible |
| Wheelbase, in. | 113.3 |
| Overall Length, in. | 165.3 |
| Overall Width, in. | 76.5 |
| Overall Height, in. | 50.9 |
| Curb Weight, lbs. | 2838 |
| Cargo Volume, cu. ft. | 1.8 |
| Fuel Capacity, gals. | 12.0 |
| Seating Capacity | 2 |
| Front Head Room, in. | 37.4 |
| Max. Front Leg Room, in. | 42.9 |

Specifications Key: NA = not available; "–" = measurement does not exist.

Power train Options and Availability


A 214-horsepower 3.5-liter V6 engine propelled the original Prowler. When it returned for 1999 after a year's absence, a stronger (253-horsepower) version of the 3.5-liter V6 went beneath the hood. All Prowlers have a rear-mounted 4-speed automatic transmission with Chrysler's Autostick manual-shift provision.

Engines

Size liters/
cu. in.

Horse-
power

Transmission:
EPA city/hgwy

Consumer Guide®
Observed

ohc V6

3.5 / 215

214

221

4-speed automatic: 22/32


4-speed automatic: 17.2

ohc V6

3.5 / 215

253

255

4-speed automatic: 19/30


4-speed automatic: 22.1

Engine Key: l/cu. in. = liters/cubic inches; ohv = overhead valve; ohc = overhead camshaft; dohc = dual overhead camshaft; I = inline cylinders; H = horizontally opposed cylinders; V = cylinders in a V configuration; W = cylinders in a W configuration; rpm = revolutions per minute; CVT = continuously variable (automatic) transmission; NA = not available; "–" = measurement does not exist.




2001 Plymouth Prowler
A car on parade in its own driveway
by Denise McCluggage

Base Price (MSRP) $44,625
As Tested (MSRP) $45,400

The Prowler could only have been created in an atmosphere where car guys called the shots –

car guys who could look back with personal affection on the early American hot rods and at the

same time look forward to technological advances in the manufacture of the automobile.

Chrysler executive Bob Lutz and Tom Gale, then head of design – car guys extraordinaire

(and both now gone from Chrysler)– were uniquely situated in the early '90s to unite those

seemingly disparate visions into a sincere homage to the hot rod and at the same time create

a test-bed of non-traditional materials. (The Prowler is the most aluminum-intensive car built

and puts magnesium,urethane and polymers to work as well.) Lutz and Gale could say,

"build it." And they did.

One model is made – a two-seat, manual-top convertible with rear-wheel drive and

automatic transmission with AutoStick.

First came the concept car that turned slowly under spotlights at the 1993 Detroit

auto show, stunning every journalist into statue rigidity

– mouth agape, eyes misting. Then three years later the car emerged in its eggplant

hue with its eggplant-shaped rear hip line – curvaceous and enorm with 20-inch rear

wheels – contrasting in delightful incongruity to the airily light front end with motorcycle

fenders capping 17-inch wheels and a brash bumper that admits it wouldn't be there on

a real hot rod (but looks fine obeying street rules). This is the car that was to be a halo

car for Plymouth – an image-enhancer like the Viper was to Dodge. Unfortunately,

Cheshire-cat like, the grin outlasted the body. With Plymouth gone the Prowler is now a

Chrysler adoptee.




Image-enhancement is still the car's strong suit – the image of the driver. Prowler remains

as eye grabbing as ever. Shouts of "I love your car" trail it through restaurant parking lots.

It evokes thumbs up and smiles from every age group, every gender. (Though it skews

heavily male among purchasers.) The Prowler evokes the emotions and entertains the

eye at every angle. Its enduring appeal depends on the fact that it is not just a bright

idea and a smart design but that it is well executed. Detail is attended to, fit and finish

are admirable. Sleekly sophisticated with its flattened wedge shape, voluptuous curves

and unique color schemes, the Prowler is nonetheless a most affable machine. Indeed,

if you didn't climb into its lap first it might climb into yours.

Colors! In some ways Chrysler is more like the Franklin Mint than a car maker with this car.

Collect-ability is a real consideration, and the choice and timing of color options is a teaser

to craving. The first year's purple (I called it "aubergine") led to a singing yellow in mid 1999.

Then came a lipstick red and a black. (And two-tone red and black for a special Woodward

Dream Cruise edition.) For 2000 silver was the new color. That was joined around Halloween

with a deep orange, sort of like a Jack O'Lantern flashed with candle fire (the color of our

test car). Also new for 2001 is a two-tone black and silver metallic called Black Tie Edition,

as entertaining as a lounge magician. A special Mulholland Drive edition is a deep sapphire

Pearl-coat blue with light blue hand striping and a dark blue top. Sounds edible, doesn't it?

True collectors, of course, want one of each.

The top is made of a substantive padded cloth. It fits solidly and looks good when up, and

it goes down with relative ease (aided by a few expletives), storing out of sight behind the

rear deck lid. The rear window is real glass with defogger. The side windows are power

with one-touch down.

The leather-trimmed bucket seats are handsome things both in appearance and in use,

providing good driving support and cruising comfort. The dash is another Chrysler design

statement, a body-colored stretched lozenge-shaped cluster with centralized instruments.

Never mind, the important thing is the little round tachometer apparently after-thought-mounted

smack in front of the driver's nose on the steering column. It reminds us of hot rods with tachs

from the J.C. Whitney's catalog.

Prowler has all sorts of comforts that few real rods have: remote keyless entry, air conditioning,

320-watt stereo with six-CD changer, audio and cruise controls on the steering wheel,

power locks, windows and mirrors, even a cup-holder (singular).

Outward visibility suffers notably. Hot-rod like, the sides of the car rise high, engendering

that three-year-old-in-a-bathtub syndrome. The top in place achieves a cocoon-like

visual isolation. But even with the top down it is impossible to know exactly where

the right-side front tire is. This is more a problem in parking lots than on the road,

but care is suggested to avoid damaging or being damaged. (Also be cautious in

edging up to low concrete parking space markers lest an unpleasant underside

scraping results.) Fortunately for locating other objects in the world the side mirrors

are amply sized. (Hint: adjust them so that they take in some of that great swell of

the rear fender. This is for aesthetic considerations only.)

The Prowler will teach you to travel light – and flat and soft-sided. The great

rear haunches are for trans-axle, tires, gas tank and top storage – not your

gear. Some garment bags might fit in the shallow area remaining, and a truly

skinny brief case behind a seat, but if you carry more than what you wear

opt for the small rounded color-matched trailer. It's cute. Fortunately, the

center console has a little stuffing space.

People much above the national average in size may find the Prowler's

cockpit (and the term is apt) cramped. Seat travel is limited. Certainly

anyone who can play above the rim will not find a home in the Prowler.

My 6-foot, seven-inch ergonomic tester could sit in the car only with

the top stowed. He could drive – sort of – peering over the windshield,

knees akimbo around the steering wheel at full tilt. It's not easy to watch

an overgrown man cry.




The first-year Prowler drew some carping for being a mere V6. (Many of the Prowler's components are modified LH bits, including the transaxle transplanted to the rear – nice for balance.) Real rods have V8s, detractors said, but the Prowler power was soon improved.

The current 3.5-liter 24-valve V6 offers 253 horsepower at 6400 rpm (and a well-placed 255 pounds-feet of torque at 3950). That power has to whup only 2838 pounds off the line. So wimpy it is not.

Sound, which is what noise is called when it's agreeable, is important in the Prowler: the big rear tires on the road surface, the top-down wind whipping by, the rise and fall of the engine's contralto drone sounding like mammoth bees approaching in intimidating numbers. Don't expect the shriek or fabric rip of a V12 or even the rumble of a V8, but the sound this V6 makes is music. You could dance to it.

Other things to dance to aren't the stuff of traditional hot rods: independent suspension fore and aft and four-wheel disc brakes. With no room for spares, the Prowler is shod with run-flat tires; a cluster light warns when tire pressures are low.

The fun of driving the Prowler is not just in being noticed. The independent suspension is wise to the ways of holding the road. Take a nice sweeping bend and accelerate through it feeling the Gs mount, the tires grip. Play open-wheel race driver watching the front tires work. Zip-zapping through tighter turns and chicane-like corners produces a smile.

Some have decried the automatic transmission in the Prowler. I shrug. This is an excellent four-speed automatic and it has AutoStick, Chrysler's semi-manual shifter. I actually prefer its side-to-side selection motion (rather than fore and aft). The driver can casually backhand it to achieve a gear change. Or hug it inward when it's time to gather the forces for a brisk canter up the green hillside, meandering amidst the trees.

Any no-compromise car will have notable shortcomings. Like most convertibles, which lack a hard top and the rigidity it adds, cowl shake is more than evident. Roughen up the road surface and there's a whole lot of shakin' goin' on. Still, the 2001 Prowler rides notably smoother on proper pavement than the rather nervous original Prowler (which I nonetheless happily piloted from Santa Fe to Monterey and suffered not at all).

The Prowler's brakes are not sterling performers. Discs are all around, but no ABS is available. (Remember your threshold-braking techniques!) The front brakes grabbed now and again, particularly at crawling paces and not consistently. Braking hard from speed takes more territory than you might anticipate so drive accordingly. And the headlights are not up to the best available today. Anyway, the Prowler is a sunshine car. Go forth in daylight and prosper.

In short, the Prowler is delightful. It can parade and it can party. It looks like a real hot rod, but boasts all the creature comforts of modern automobiles. It's fun to drive.

It is to DaimlerChrysler's credit that real hot rodders generally like and admire the Prowler. They recognize it as the tribute to their cars that it was meant to be.




1999 Chrysler Howler Concept
Source: Chrysler

| | | |
| --- | --- | --- |
| | | |

DaimlerChrysler unveiled the Howler show car at the Specialty Equipment Market Association's (SEMA) annual show in Las Vegas in 1999. With the 250 bhp, 300 lb.-ft. V-8 Howler, the Company shows off a performance roadster pickup interpretation of Prowler, which pays homage to the rolling art of hot rods.

Howler is the result of two internal projects. In DaimlerChrysler's Advanced Packaging studio, designer Christopher Schuttera, who graduated just two years ago from the University of Cincinnati, created his vision based on a modern version of classic forms incorporating a pickup bed into the clean, pure Prowler design.

At the same time, Jon Rundels, Concept and Specialty Vehicle Executive, was looking for ways to meld the Prowler platform with the all-new Jeep® PowerTech V-8 engine and a Borg-Warner T5 manual transmission.

"Here we had two enthusiast projects going on in our own Auburn Hills studios that you would expect to see in an automotive specialty shop," said Tom Gale, DaimlerChrysler Corporation's Executive Vice President for Product Development and Design. "What better occasion than the SEMA show — which is all about customization and conversion — to link these projects and create another stunning show car."

Howler is an unprecedented combination of outrageous yet practical design and powerful performance. Technically, Rundels" team changed the engine from the standard V-6 to the PowerTech V-8, replaced the rear transaxle with an engine-mounted five-speed manual transmission with 10.5 inch clutch and a Dana 44 rear differential, and fabricated a custom driveshaft and half-shafts. A pedal package with clutch was borrowed from the Neon to replace the standard two pedal package. Removing the rear transaxle provided the opportunity to reposition the fuel tank.

"This in turn allowed us to open up the rear of the car and create space for a trunk while leaving the front end, doors, top and interior untouched," added Schuttera. "The result is a show car that remains true to the heritage of the home-built hot rod, yet offers true everyday convenience."
Prowler Recall Notices:

NHTSA Prowler Brief Recall History

1997: Some welds that affect vehicle control and crashworthiness may have been omitted in six areas of the frame; loss of control can occur.

1997-02: Some vehicles may have defective lower control arm ball joints, resulting in possible loss of steering control. Dealer will inspect and replace affected parts.

1999: Brake-indicator-lamp circuit does not contain the required ground circuit to illuminate the lamp in the event of a brake system hydraulic malfunction.

1999: Some aluminum castings used in manufacture of frame may have missed the required heat treatment; some of these frames could fracture under vehicle operating conditions.

2000-01: Some of the owner's manuals for these vehicles are missing instructions for properly attaching a child restraint system's tether strap to the tether anchorage.

Prowler 1997, 1999, 2000, 2001, 2002
NHTSA Recall Campaign Number: 06E022000

Component: SERVICE BRAKES, HYDRAULIC

Details: CERTAIN AFTERMARKET BRAKE HYDRAULIC MASTER CYLINDERS SOLD AS REPLACEMENT BRAKE CYLINDERS FOR CERTAIN FORD, DAIMLERCHRYSLER, AND JEEP PASSENGER VEHICLES. THESE BRAKE CYLINDERS WERE SOLD UNDER THE BRAND NAMES OF NAPA, RAYBESTOS, AIMCO, AC DELCO, CARQUEST, BENDIX, AND WAGNER. ONLY PRODUCTS THAT WERE MANUFACTURED FROM JULY 27, 2005 THROUGH JANUARY 17, 2006 (DATE CODES 0529 THROUGH 0602) ARE SUBJECT TO THIS RECALL. WHEN SUBJECT TO VERY COLD TEMPERATURES, AN INTERNAL SEAL IN THE MASTER CYLINDER COULD LOSE FLEXIBILITY AND MAY CAUSE BRAKE FLUID TO LEAK.

Consequence: LOSS OF BRAKE FLUID CAN LEAD TO A DECREASE IN BRAKE LINE PRESSURE AND AN INCREASE IN STOPPING DISTANCE, WHICH CAN RESULT IN A VEHICLE CRASH.

Corrective Action: AFFINIA (BRAKE PARTS, INC.) WILL REPLACE THE SUBJECT BRAKE HYDRAULIC MASTER CYLINDERS FREE OF CHARGE. THE RECALL BEGAN ON MARCH 20, 2006. OWNERS CAN CONTACT AFFINA GROUP CUSTOMER SERVICE AT 1-800-323-0354.

Prowler 2000, 2001
NHTSA Recall Campaign Number: 00V366000

Component: CHILD SEAT

Details: VEHICLE DESCRIPTION: CERTAIN PASSENGER VEHICLES, PICKUP TRUCKS AND SPORT UTILITY VEHICLES FAIL TO COMPLY WITH THE REQUIREMENTS OF FMVSS NO. 225, "CHILD RESTRAINT ANCHORAGE SYSTEMS." SOME OF THE OWNER'S MANUALS FOR THESE VEHICLES ARE MISSING INSTRUCTIONS THAT PROVIDE A STEP-BY-STEP PROCEDURE, INCLUDING DIAGRAMS, FOR PROPERLY ATTACHING A CHILD RESTRAINT SYSTEM'S TETHER STRAP TO THE TETHER ANCHORAGE.

Consequence: IN THE EVENT OF A CRASH, THE CHILD SEAT MAY NOT BE PROPERLY ATTACHED INCREASING THE RISK OF INJURY TO THE CHILD.

Corrective Action: OWNERS WILL BE PROVIDED WITH AN ADDENDUM TO THE OWNER'S MANUALS.


Prowler 1999, 2000, 2001
NHTSA Recall Campaign Number: 03V034000

Component: SUSPENSION:FRONT:CONTROL ARM:LOWER ARM

Details: ON CERTAIN PASSENGER VEHICLES, THE LOWER CONTROL ARM BALL JOINTS MAY EXPERIENCE A LOSS OF LUBRICATION THAT CAN RESULT IN ACCELERATED WEAR AND POSSIBLE SEPARATION FROM THE STEERING KNUCKLE.

Consequence: A BALL JOINT THAT HAS SEPARATED MAY RESULT IN LOSS OF DIRECTIONAL CONTROL.

Corrective Action: DEALERS WILL REPLACE THE FRONT LOWER CONTROL ARM BALL JOINTS WITH MODIFIED ASSEMBLIES. OWNER NOTIFICATION BEGAN ON APRIL 4, 2003. OWNERS WHO TAKE THEIR VEHICLES TO AN AUTHORIZED DEALER ON AN AGREED UPON SERVICE DATE AND DO NOT RECEIVE THE FREE REMEDY WITHIN A REASONABLE TIME SHOULD CONTACT DAIMLERCHRYSLER AT 1-800-853-1403 OR CHECK ON-LINE AT HTTP://WWW.CHRYSLER.COM/WEBSELFSERVICE/CHRYSLER/INDEX.JSP

Prowler 1999
NHTSA Recall Campaign Number: 99V245000

Component: INTERIOR LIGHTING

Details: VEHICLE DESCRIPTION: PASSENGER VEHICLES. THE BRAKE SYSTEM ON THESE VEHICLES DOES NOT COMPLY WITH FMVSS NO. 105, "HYDRAULIC BRAKE SYSTEMS."

Consequence: THE BRAKE INDICATOR LAMP CIRCUIT DOES NOT CONTAIN THE REQUIRED GROUND CIRCUIT TO ILLUMINATE THE LAMP IN THE EVENT OF A BRAKE SYSTEM HYDRAULIC MALFUNCTION.

Corrective Action: DEALERS WILL ATTACH A WIRING JUMPER TO THE BRAKE SYSTEM PRESSURE DIFFERENTIAL SWITCH.

Prowler 1999
NHTSA Recall Campaign Number: 98V104000

Component: INTERIOR LIGHTING

Details: VEHICLE DESCRIPTION: PASSENGER VEHICLES. THE BACK LIGHT BULBS FOR THE LIQUID CRYSTAL DISPLAY FOR THE GEAR SHIFT POSITION (PRNDL) AND THE ODOMETER WERE NOT PROPERLY INSTALLED.

Consequence: IF THE BULBS FALL OUT, THE DISPLAY MAY BE DIFFICULT TO READ.

Corrective Action: DEALERS WILL REPLACE THE INSTRUMENT CLUSTER ASSEMBLY WITH CLUSTERS THAT HAVE BULBS THAT HAVE BEEN PROPERLY TWIST-LOCKED IN PLACE.

Units Potentially Affected: 457

Prowler 1999
NHTSA Recall Campaign Number: 99V313000

Component: STRUCTURE:FRAME AND MEMBERS

Details: VEHICLE DESCRIPTION: PASSENGER VEHICLES. SOME ALUMINUM CASTINGS USED IN THE MANUFACTURE OF THE VEHICLE FRAME MAY HAVE MISSED THE REQUIRED HEAT TREATMENT OPERATION RESULTING IN SOFT FRAME CASTINGS.

Consequence: SOME OF THESE FRAMES COULD FRACTURE UNDER VEHICLE OPERATING CONDITIONS, RESULTING IN LOSS OF VEHICLE HANDLING OR VEHICLE CONTROL.

Corrective Action: DEALERS WILL REPLACE THESE VEHICLES.

Units Potentially Affected: 546

Prowler 1997
NHTSA Recall Campaign Number: 98V184000

Component: FUEL SYSTEM, GASOLINE:FUEL INJECTION SYSTEM

Details: VEHICLE DESCRIPTION: PASSENGER VEHICLES BUILT WITH 3.5L ENGINES. THE FUEL INJECTION DELIVERY SYSTEM CAN LEAK FUEL FROM SOME OF THE SEALING O-RINGS OR FROM HAIR LINE CRACKS IN THE THERMOSET FUEL INJECTION RAIL.

Consequence: FUEL LEAKAGE IN THE PRESENCE OF AN IGNITION SOURCE CAN RESULT IN A FIRE.

Corrective Action: DEALERS WILL REPLACE THE FUEL RAIL O-RINGS AND REINFORCE THE OUTLET (PASSENGER) SIDE FUEL RAIL. VEHICLES SHOWING FUEL LEAKAGE ON THE OUTLET FUEL RAIL MUST HAVE THE OUTLET RAIL REPLACED WHICH INCLUDES CHANGING THE UPPER AND LOWER INJECTOR O-RINGS. HOWEVER, IF A VEHICLE IS LEAKING FUEL FROM THE O-RINGS OR FROM A CRACKED FUEL LINE, THE VEHICLE SHOULD BE TAKEN INTO A DEALER TO HAVE THIS REPAIRED AS SOON AS POSSIBLE.

Prowler 1997
NHTSA Recall Campaign Number: 98V047000

Component: STRUCTURE:FRAME AND MEMBERS

Details: VEHICLE DESCRIPTION: MULTI-PURPOSE PASSENGER VEHICLE. SOME OF THE FRAME WELDS THAT AFFECT VEHICLE CONTROL AND CRASHWORTHINESS WERE OMITTED IN SIX ZONES IN THE FRAME.

Consequence: LOSS OF VEHICLE CONTROL CAN OCCUR, INCREASING THE RISK OF A VEHICLE CRASH.

Corrective Action: DEALERS WILL INSPECT THESE VEHICLES FOR THE PRESENCE OF THE CRITICAL WELDS. ANY VEHICLES MISSING WELDS WILL BE CORRECTED BY TEAMS OF WELDERS IN THE FIELD.

Units Potentially Affected: 245




A Brief Summary of Year-to-Year Changes

1998 Plymouth Prowler: No '98 models were issued, but Prowler would be back for 1999.1999 Plymouth Prowler: Reintroduced in spring of 1998 as a '99 model, Prowler had a new V6 engine that produced 253 horsepower–39 more than in 1997. That engine came from the Chrysler 300M and LHS. As before, the sole transmission was a rear-mounted automatic unit with Chrysler's Autostick manual-shift feature. Antilock brakes and traction control remained unavailable. In addition to the original purple body color, the revived Prowler came in yellow, black, or red. Chrome wheels were newly optional, too.

2000 Plymouth Prowler: Suspension revisions were the major changes this year, along with new body colors. Springs were softened and shock absorbers recalibrated, in an attempt to improve ride and handling. Silver joined the body-color list, replacing yellow and purple. A new chrome bezel and leather boot went on the gearshift, and an automatic-dimming mirror contained an integral compass and trip computer.

2001 Plymouth Prowler: Adjustable shock absorbers and new colors are the only changes for this limited production model. Production ceased at the end of the year.

2002 Plymouth Prowler: Inca Gold replaced Mulholland Blue midyear as an option to orange or silver. The last Prowler was put together on February 15, 2002.

1997-2002 Plymouth Prowler: Reliability


From Consumer Guide

Trouble Spots
Consumer Guide's® Auto Editors have scoured repair bulletins and questioned mechanics to search for commonly occurring problems for a particular vehicle. In some cases we also give possible manufacturer-suggested solutions. In many instances these trouble spots are Technical Service Bulletins posted by the manufacturer, however, we have our own expert looking at additional vehicle problems.

Air conditioner: A growling noise from the A/C is probably due to the A/C line rubbing on the air-filter housing. A revised line must be installed. (1997-99)Dashboard lights: The low-tire-pressure warning may blink intermittently. If the pressure is not actually low, the pressure sensor(s) will be replaced. (1997-99)

Dashboard lights: Low tire-pressure warning light might indicate a faulty sensor/transmitter. (1997-99)

Fuel gauge: If fuel tank does not fill completely or is slow to fill, and updated filler neck and hose are available. (1997-01)

Fuel pump: When refueling, the pump nozzle may keep clicking off and/or the tank may stop accepting fuel when it is only half-full due to a problem with the filler neck. A revised neck is available. (1997-99)

Hard starting: Reprogramming the power-train control module could aid cold start idle quality. (1997)

Oil leak: In colder weather, oil may be forced out of the differential case vent. (1997-00)

Vehicle noise: A fluttering or vibrating noise from the center dash vents means the HVAC mode door needs to be recalibrated which is done by removing the battery cable, turning the blower switch to high, and reconnecting the battery cable. (1999-2000)

1999-2002 Plymouth Prowler
3.5 liter SOHC V-6 VIN "G"
Firing Order
1997 Plymouth Prowler Development
For sheer impact, though, nothing could match the 1997 Prowler, the most-exciting Plymouth in a generation. It was unlike anything ever offered by a mainstream automaker, being a modern reincarnation of the iconic American hot rod.
Like the Dodge Viper before it, Prowler began as a concept, premiering at the 1993 Detroit Auto Show amid rabid pleas to "Build it!" Once more, Chrysler president Bob Lutz gave his full endorsement to a fairly outrageous automobile aimed squarely at car buffs like himself.
Again sharing his enthusiasm were design chief Tom Gale, long an active hot rod hobbyist, and Advanced Design director Neil Walling, who oversaw the concept's development from an idea suggested by a staffer at the company's California design outpost, Chrysler Pacifica.
Though hardly the sort of car expected of a "value brand," Prowler promised to do for Plymouth what Viper had for Dodge — namely, get people talking and change their minds. Indeed, Chrysler viewed its two-seat retro roadster has having just the right "shock value" for resuscitating Plymouth's moribund image and low "brand awareness" among consumers.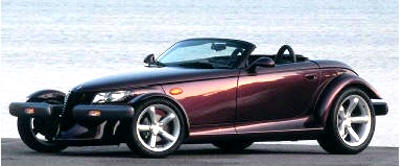 The 1997 Plymouth Prowler was a crowd-pleasing hot-rod.
There was high-tech seriousness beneath the hot-rod fun, as Prowler became Chrysler's low-volume laboratory for nontraditional construction and materials. For example, aluminum was used not only for an all-independent suspension but the entire chassis and much of the body. In fact, Prowler packed more aluminum than any car in Chrysler history — some 900 pounds of it — construction rivaled only by the exotic Honda-built Acura NSX sports car. The result was a lean machine with about the same length as a Porsche 911 but weighing well under 2900 pounds.
Other weight-watching measures included a lateral dashboard brace made of costly magnesium, the industry's first cast aluminum brake rotors (rear only; front discs were iron Voyager parts), and plastic-like sheet molding to shape the quarter panels, vintage cycle-type front fenders, and a pointy nose skimming just 4.5 inches above the pavement.
Helped by a raked-forward profile and broad 76.5-inch beam, the Prowler turned heads like nothing else on the street. The only changes from the stunning concept were more prominent front "bumperettes" and headlights, both to satisfy the feds. Wheels were handsome five-spoke alloys measuring 1737.5 inches fore and a massive 20310 aft, and you could have any color at first so long as it was vivid Prowler Purple. The manual top, a black fabric affair, stowed easily beneath a rear-hinged trunklid — and most always was. Prowler, after all, was about lookin' good. There was no room for introverts.
Or much of anything else. The front-tapering '30s-style body left footwells uncomfortably narrow (though wider than on the concept). Standard run-flat tires eliminated the need for a spare, but the trunk was nearly useless, squeezed from below by the fuel tank (itself laughably small at 12 gallons) and a rear transaxle, also new for Chrysler. The latter contributed to front/rear weight distribution of 45/55 percent, making Prowler quite nimble on dry roads despite a long 113-inch wheelbase. And for times when you had to carry more than a couple of pizzas, Chrysler offered a small accessory trailer, shaped like the tail, for about five-grand.
But the fat tires with their ultra stiff sidewalls "find every bump," as Car and Driver noted, and could be way too slippery in the rain. And like Viper, antilock brakes and traction control weren't available, yet a number of luxuries were standard: air conditioning, power windows and mirrors, leather upholstery, high-power sound system, even a gee-whiz tire-pressure monitor.
Hot-rod purists also shook their heads at Prowler's powertrain: a 3.5-liter V-6 sending a modest 214 bhp through a four-speed automatic transmission. Like much of the interior, these were off-the- shelf components used to keep price reasonable, which it was at an initial $38,300. Yet despite that, the low weight and standard AutoStick manual-shift feature, Prowler was nowhere near as fast as it looked. Car and Driver's results were typical: 0-60 in 7 seconds flat, a standing quarter-mile of 15.6 at 87 mph — pretty tame.
Overall, C/D viewed Prowler as "awash in contradictions. Hot rods have V-8s and manual gearboxes. The Prowler offers neither. Hot rods are supposed to ride badly and handle badly, then set fire to the dragstrip. Instead, the Prowler handles almost like a sports car but is a relative flatliner on the drag­strip. Hot rods are supposed to have individualized exteriors …[not] one level of trim. Hot rods customarily sport spartan, handmade interiors. The Prowler's is more plush and option laden than a BMW Z3's."
On the other hand, "It's a convertible, the drivetrain is dead reliable, it can be driven [every day] as long as there's no snow, there's a three-year/36,000-mile warranty, and the vehicle regularly twists the needle right off … the gawk meter."
Predictably, Chrysler's latest piece of eye candy was always in short supply. Though the long wait from concept to reality stoked demand to a fever pitch, Chrysler wouldn't rush. After all, Prowler was Plymouth's important new image-leader, and thus needed to be well-made and glitch-free from day one. Besides, why risk diluting the car's mystique — and driving down resale values — by building too many too fast? All this echoed Viper experience, and Chrysler sensibly assigned Prowler production to the Viper plant on Detroit's Conner Avenue, which was geared to build semicustom machines at a measured pace with considerable hand labor.
As it happened, though, Prowlers didn't begin reaching dealers until August 1997, delayed by last-minute production glitches. As a result, model-year output was only 312 units instead of the 2000-3000 planned, and a bidding war broke out among would-be owners.

Prowler skipped model-year '98 for an early start on 1999. Red, black, and a vibrant yellow expanded the color palette, but the big news was an aluminum-block version of the single-cam 3.5 V-6. Horsepower swelled by 39 to 253, peaking at 6400 rpm instead of 5850. Torque rose by a useful 34 pound-feet to 255, and maxed out at more accessible 3100 rpm (versus 3950). Car and Driver lopped a second off the 0-60 dash and timed quarter-mile acceleration at 14.7 seconds at 90 mph.
Other magazine tests showed less-dramatic improvements, but the '99 was stronger by most accounts. And though the traditional hot-rod exhaust burble was still missing, so were some of the '97 model's unwanted cowl shake and body quivering. Base price went up $1000, but nobody complained.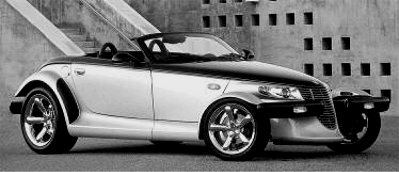 Plymouth Prowlers, like this 2001 model, were much talked about but
didn't boost sales as much as retailers had hoped.
Yet for all its high-profile pizzazz, Prowler did nothing to spur sales of workaday Plymouths, and that spelled trouble once Germany's Daimler-Benz absorbed Chrysler Corporation in late 1998. The new DaimlerBenz was troubled from the start, and the mostly German top brass were far more concerned with "shareholder value" than any value Plymouth might have for their American "division."
Thus, in late October 1999, after months of mounting rumors, DC's American-born president, James Holden, announced that Plymouth would be terminated after model-year 2001 as irrelevant to the company's new "global growth strategy." It was a sad day for many car lovers, but industry analysts (and even Chrysler-Plymouth dealers) weren't surprised. After all, Prowler was only the first Plymouth since the '69 Barracuda with no direct Dodge duplicate, and Dodge always did better with shared products.
But C/D's Pat Bedard, himself a former Chrysler engineer, begged to differ. In a March 2000 epitaph, he noted that Plymouth sales might still be sliding, but were "hardly dead … Voyager sales not only outnumbered Plymouth cars in 1998, they outgunned the combined minivan efforts of the Chevrolet Venture and Pontiac Montana … There's something odd, too, about DC's notion of global growth. Yeah, Plymouth is only a U.S. brand. So what? … Low-priced brands always slump when people have the dough to buy higher on the status ladder. [When they don't], a trusted budget brand makes a great lifeboat [for an automaker]. Building a fresh one, as GM did with Saturn, costs billions … I think DaimlerChrysler is walking away from sales."
Maybe so, but losing Plymouth was easy for DC, and customers could be steered to other company brands. With that, Breeze was dropped with the 2001 redesign of its Dodge and Chrysler siblings (which would then presumably take up the slack), and rebadging created Chrysler Voyagers even before the company's new minivans arrived, also for '01. The second-generation 2000 Neon was sold as Plymouth, but only for about 18 months and without the sporty options Dodge offered.
Prowler, too, became a Chrysler, swapping nameplates during model-year 2001, but hung on through '02. The 2000 edition got revised damping and adjustable shock absorbers for a more pliant ride, plus a few minor feature additions. Otherwise, only colors were changed.
Left behind in Plymouth's demise was the intriguing Howler concept. Basically a Prowler with a handsome new squared-off tail, it offered usable luggage space at last, achieved by exchanging the rear transaxle for a conventional front-­mounted transmission. Even better, though, that gearbox was a five-speed manual bolted to a V-8, a torque of 250 4.7-liter borrowed from the Jeep Grand Cherokee. Enthusiasts cheered, but there was no hope for Howler, a strictly what-if dream unveiled only weeks before Plymouth's announced execution.
Plymouth wasn't Detroit's only historic nameplate to be killed off by new-century corporate tactics. General Motors' Oldsmobile went to the gallows barely a year later. But there's an ironic footnote in that the 2001 PT Cruiser was once planned for Plymouth, as product chief Tom Gale told us. Considering its huge sales success as a low-priced Chrysler, the versatile, "way-cool" Cruiser could have been just the comeback car Plymouth needed, setting the stage for more Plymouth-only models and a true revival of the make. A pity Chrysler walked away from that, too.
Road Test: Hennessey Prowler GTX
From the April, 2000 issue of Motor Trend
By 
Mac Demere  
/ Photography by Wesley Allison
By the third run down the test track, I was getting a little too giggly. Perhaps it was from the Viper RT/10-like acceleration of the nitrous oxide-boosted Hennessey Prowler GTX. Or maybe it was the whiff of the laughing gas I got when the system was purged prior to testing. Either way, I was having loads of fun, which is the sole reason for owning John Hennessey's latest creation.
"The whole essence of a hot rod is to go fast and look good," says Hennessey. With the GTX, Hennessey improved the Plymouth Prowler's already audacious appearance a little bit and made it a whole bunch faster.
From its introduction, the Prowler's emphasis was on "show," with "go" an afterthought. Even after a '98 upgrade to a 3.5-liter/253-horsepower SOHC V-6, the stock Prowler looked a lot faster than it went. Hennessey's challenge was to make the Prowler significantly faster for a reasonable price. Rather than supercharging the existing engine or transplanting in a V-8, Hennessey chose to add a nitrous oxide injection system. Other engine work was limited to light head porting, a freer flowing exhaust system, and a low-restriction K&N air filter. These last modifications up the GTX's horsepower to 290. But flip the nitrous switch (located in the console between the seats), go to wide-open throttle, and the GTX can reach a peak of 365 horses and a whopping 450 pound-feet of torque. The result is 0-60 mph in blazing 4.5 seconds with a rapid 13.1-second/105.3-mph quarter mile. Compare that not only to a stock '99 Prowler (0-60 mph in 5.7 seconds, with a 14.3-second/95.4-mph quarter), but more significantly to what we got a few years back from a '93 Dodge Viper RT/10: 4.5 0-60, 13.2 at 112.1 mph in the quarter. In anybody's book, the Hennessey Prowler GTX has plenty of "go fast" to accompany its "look good
With the GTX, Hennessey focused totally on the straight-line acceleration, so much that, in deference to Hennessey's customer's tires, we didn't even run it through our handling tests. The handling numbers in the accompanying chart are from a stock '99 Prowler.
Without the laughing gas, it's hard tell the GTX from a stock Prowler. It feels marginally more muscular and, thanks to the headers and air filter, slightly louder. Even when armed, the nitrous system is transparent. The bottle heater automatically switches off when the nitrous reaches the proper pressure, and no juice goes to the engine until the throttle is flat to the floor. Drive sedately, and you can leave the system armed all day. Even a partial lift off the accelerator pedal immediately shuts off the gas.
Hennessey employed a Nitrous Express controller that permits virtually infinite adjustment of the amount and timing of the nitrous delivery. For our testing, the system delivered 100 percent of its capacity as soon as wide-open throttle was reached. This required me to roll off the line at part throttle to prevent speed-robbing wheelspin. But to avoid spinning the huge 295/40ZR20 tires during street driving, you could choose to progressively ramp up nitrous delivery.
(If you thought "dental surgery" at the first mention of nitrous oxide, here's a quick primer: Nitrous helps an engine produce more power primarily by carrying more oxygen to the combustion chamber, which allows the engine to burn more fuel. Also, when compressed nitrous oxide expands, it cools the intake charge, which increases output potency.)
The twin, trunk-mounted 5-pound nitrous bottles-connected to the manifold by steel-braided hoses-are good for about a half-dozen full passes down the dragstrip or an evening's worth of stoplight-to-stoplight sprints before they run dry.
In the "looks" department, Hennessey removed the bumpers, a move he says is legal, at least in Texas. The rear mounting points were covered with a roll pan. Up front, the turn signals were moved from the bumper to the grille and small panels were fabricated to cover the bumper mounting points. No suspension work was performed. The stock Goodyear Eagle GS-Ds on stock wheels also were retained. Stickier, wider rear tires might have chopped another tenth or two off the 0-60-mph time.
Total cost for the entire package is about $15,500 installed at Hennessey's Houston, Texas, shops.
Our verdict: The Hennessey GTX package is a relatively easy, relatively affordable way to give the Prowler some serious go-fast. And, yes, I'm still grinning.

Hennessey Prowler GTX  Specifications
GENERAL
Vehicle configuration
Front engine, rear-drive,two-door, 2-pass. hot rod

Engine type

60° V-6, SOHC, 4 valves/cyl.

Displacement, ci/cc

214.7/3518

Engine modifications

HMS Nitrous oxide kit, HMS header and exhaust system, K&N air filter

Horsepower, hp @ rpm, SAE net

365 @ 5000

Torque, lb-ft @ rpm, SAE net

450 @ 2800

Transmission type

4-speed automatic

Tires/wheels

Goodyear Eagle GS-D 225/45VR17/295/40ZR20, stock aluminum

Other modifications

Bumper deletion kit
PERFORMANCE

Acceleration, sec

 

    0-30 mph

1.7

    0-40 mph

2.5

    0-50 mph

3.4

    0-60 mph

4.5

    0-70 mph

5.8

    0-80 mph

7.3

    0-90 mph

9.3

    0-100 mph

11.6

Standing quarter mile, sec/mph

13.1/105.3

Braking, 60-0 mph, ft

172*

Lateral acceleration, g

0.85*

Speed through 600-ft slalom, mph

66.3*

* from stock '99 Prowler