John Collins-Method
Remove rear cross member, use a Felpro Kit and they come with a pan gasket along with the filter and O ring. If you don't use the seal you will have to glue the pan back like the factory did. Put in about 4 or 5 quarts of ATF 4 and let it go threw the gears using the manual over ride also using reverse to get it up to factory temp. and then it put the car on the ground and check the fluid. Most Prowlers will take 5 to 6 quarts. Always pick up 8 quarts for the job.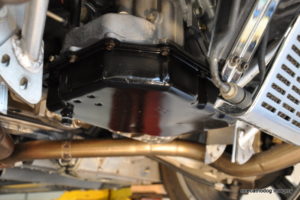 The Filter can not be changed with out removing the pan or the magnet cleaned.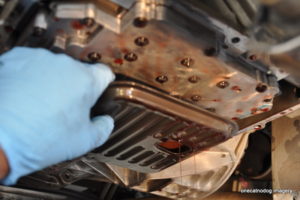 Here is one of the pry spots as all Prowler Pans are installed at the factory with Black Sealer.
Here is where I start.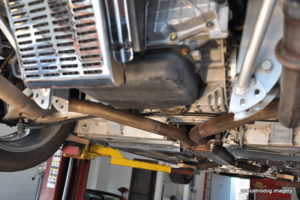 Leave about 4 corner bolts in but loose to hold the pan in place when you do the pry the pan off from the factory glue.
Use the pry spots that I showed you earlier to help drain the fluid out or I guess you could use the pump to suck it out.. Do a product review on the pump from Harbor Freight, as it's not very good and I was afraid that I would make a mess and I didn't want it on the trunk carpet.. I have a very large pan and always put some card board down and then it's not a big deal.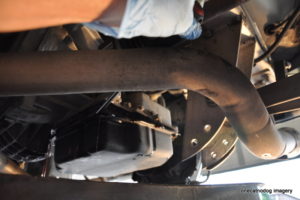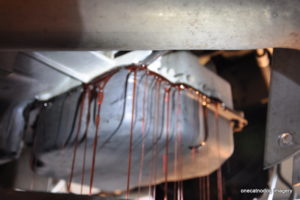 Two clips hold the filter on.
Make sure that the old "o" ring is removed and put the new one on the new filter and put a little trans fluid on it as it makes it super easy to push back on.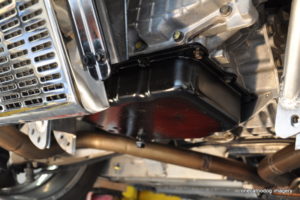 Something to think about as when I put the welded drain plugs in I put them in the left front corner when looking at the back of the car to the front.. If the car has a after market roll pan you will be able to still drain it with no mess.